Tacos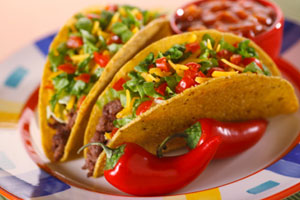 jump to the recipes

Recipes for different types of Mexican and Tex-Mex tacos - beef, chicken, fish, etc
Baked Tacos

2 reviews
An easy baked version of tacos made by filling flour tortillas with ground beef, beans, salsa, and seasonings. The tacos are baked in the oven and garnished with your standard taco fixings.
oven, stovetop
Baja Fish Tacos

7 reviews
These fish tacos are lower in fat than the typical fried versions. Cod fillets are seasoned and sauteed and piled into taco shells with a sour cream-mayo sauce, diced tomatoes, taco sauce, and shredded cabbage.
stovetop
Mahi Mahi Soft Tacos with Chipotle Yogurt Sauce

3 reviews
Mahi mahi is seasoned and sauteed then piled onto flour tortillas along with shredded cabbage and a chipotle chile-yogurt sauce.
stovetop, microwave
Grilled Fish Tacos with Thai Slaw

2 reviews
Made with sesame oil, red chili paste, coconut milk, peanut butter, maple syrup, red pepper flakes, red cabbage, carrots, daikon
outdoor grill, stovetop
Beef Taco Filling

1 review
Made with lettuce, ground beef, onions, chili powder, paprika, salt, taco sauce, Worcestershire sauce, pinto beans, taco shells
stovetop, crock pot
Speedy Spicy Chicken Tacos

1 review
Made with green onions, chicken, chipotle chili in adobo, adobo sauce, mayonnaise, shredded cheese, taco shells, lettuce, roma tomato
microwave
Beef Tacos

1 review
Made with taco shells, refried beans, ground beef, onions, taco seasoning mix, taco sauce
stovetop, crock pot
Shredded Beef Soft Tacos
Made with liquid smoke, bay leaves, beef bouillon granules, garlic, cider vinegar, ketchup, dry red wine, green bell peppers, yellow onion, top sirloin steak or sirloin tip roast, all visible fat
crock pot
Yummy Chicken Tacos

1 review
Made with tortilla shells, instant rice, taco seasoning, mild salsa, water, vegetable oil, chicken breast
stovetop
Baked Ground Beef Taquitos

1 review
Made with cheddar or jack cheese, garlic, vegetable oil, ground beef, white onion, cumin, ground coriander, chili powder, salt, black pepper
oven, stovetop
Fresh Island Fish Tacos with Asian Slaw and Thai-style Mayonnaise

1 review
Made with chili garlic paste, kaffir lime leaves, napa cabbage, red cabbage, carrots, green onions, fresh cilantro, pickled ginger
stovetop
Cold Taco Salad

3 reviews
Made with onion, lettuce, tomato, green bell pepper, cheddar cheese, ground beef, French salad dressing, tortilla chips