home > recipes > cuisines > central america > mexican > fajitas > chicken fajitas
Fajitas With Chicken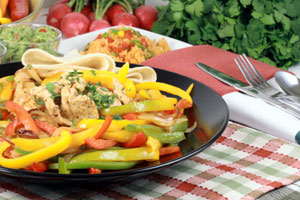 jump to the recipes

Technically there is no such thing as chicken fajitas! The fajita refers to a cut of beef but has become a more generic term for a type of Tex-Mex (not truly Mexican) dish that traditionally only contained beef. But that doesn't mean you can't enjoy this popular dish with chicken! Chicken fajitas are typically served on flour tortillas with grilled onions and peppers. We have lot of other versions as well like fajitas with cinnamon and lime or even asparagus!
Stove-Top Grilled Fajitas
1 review
Can't grill? No problem, these chicken fajitas are made in a grill pan with seasonings that taste like it's fresh off the grill.
stovetop
Applebee's Chicken Fajita Rollups
1 review 1 comment
Made with sour cream, white tortilla shell, chicken, pico de gallo, jack and Cheddar cheese mix, lettuce, tomatoes
oven
Wok-Cooked Chicken Fajitas
10 reviews
Made with flour tortillas, oil, boneless skinless chicken breast, onion, green bell pepper, red bell pepper, chili powder, garlic, cumin, black pepper
stovetop
Grilled Chicken Fajita Wraps
Made with sour cream, salsa and guacamole, flour tortillas, onions, green bell peppers, vegetable oil, boneless, skinless chicken breast, cheddar cheese
outdoor grill
Charred Chicken And Pepper Fajitas
Made with sunflower oil, skinless, boneless chicken breast halves, yellow bell pepper, red onion, dried oregano, chilies, vegetable oil, lime, salt and ground black pepper, flour tortillas
stovetop
Chicken Fajitas
2 reviews
Made with boneless, skinless chicken, onion, red or green bell pepper, chili powder, cumin, salt, chicken broth, lime juice, flour tortillas, Cheddar cheese
crock pot
Applebee's Chicken Fajitas
1 review
Made with jalapenos, flour tortillas, Cheddar cheese, chicken breast, tomato, onion, peppers, sour cream, pico de gallo
outdoor grill, microwave
Cheesy Chicken Fajitas
2 reviews
Made with salsa, flour tortillas, boneless skinless chicken breast halves, garlic, green or red bell pepper, red onion, colby & monterey jack cheese
stovetop
Sizzling Chicken Fajitas
2 reviews
Made with flour tortillas, green bell pepper, Worcestershire sauce, lime juice, soy sauce, chili powder, garlic, boneless, skinless chicken thighs, vegetable oil, onion
stovetop
Cilantro-Lime Chicken Fajitas With Grilled Onions
3 reviews
Made with olive oil, lime juice, cumin, ancho chile powder, boneless, skinless chicken breast halves, poblano chiles, yellow bell peppers, red onions, flour tortillas
outdoor grill
Family Friendly Fajitas
Made with vegetable oil, onion, chili powder, garlic powder, onion powder, green bell pepper, red bell pepper, lime, flour tortillas
stovetop
Cajun Fajitas
Made with oregano, dried marjoram, garlic powder, Cajun seasoning, ground red pepper, cayenne pepper, black pepper, vegetable oil, boneless skinless chicken breasts, green bell pepper
stovetop