home > recipes > cuisines > central america > mexican > carnitas
Carnitas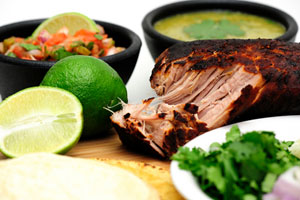 jump to the recipes

In Spanish, carnitas means "little meats". This traditional Mexican dish is typically made from pork, but can also be made from beef. The meat is braised or roasted slowly until it is easily shredded or chopped. It is then roasted at higher heat until it is caramelized. It is often served with cilantro, onion, salsa, guacamole, refried beans and tortillas.
Debbie's Mexican Shredded Beef (Carnitas)
8 reviews
Made with salt, stewed tomatoes, cumin, beef chuck roast, salsa, garlic, chili powder, fresh oregano
stovetop, oven
Chipotle Carnitas
4 reviews
Made with water, pork butt, chicken broth, bay leaves, onion, ground cumin, cilantro, oregano, chipotle chilies en adobo, adobo sauce
stovetop, oven
Pork Carnitas
5 reviews
Mexican style carnitas made with pork, onion, garlic, salt, dried oregano, and ground cumin.
stovetop, oven
Milk Cooked Carnitas (Using Boston Butt Roast)
19 reviews
Made with milk, salt, dried thyme, pork shoulder or butt, onions, celery, garlic, bay leaves
stovetop, oven
Mexican Carnitas Verdes (Pork With Green Salsa)
3 reviews
Made with black pepper, seasoned salt, pork loin roast, salsa verde, onion, garlic
oven
Carnitas
4 reviews 2 comments
Made with corn tortillas, beer, pork butt roast, garlic, jalapeno pepper, fresh cilantro
crock pot
Easy Baked Carnitas
Made with pork, cilantro, dried ground red Mexican chile or poblano chile, salt and pepper, cumin, garlic
stovetop
Caramelized Carnitas
1 review 1 comment
Made with green onion, water, garlic, pork shoulder, brown sugar, tequila, molasses, salt, black pepper
stovetop
Seattle Fresca Carnitas
2 reviews 1 comment
Made with boneless pork butt or shoulder roast, fresca, frozen orange juice concentrate, onion soup mix, taco seasoning mix, limes, red wine, liquid smoke, garlic, salt
crock pot, deep fryer, stovetop
Boiled Carnitas
Made with tortillas, salsa, sour cream, orange, lard, pork shoulder or butt roast
stovetop
Texas Pork Carnitas
Made with garlic powder, Tabasco sauce, pork tenderloin, corn syrup, chili sauce, chicken stock, mushrooms, soy sauce, pineapple juice, white wine
stovetop