Central American Cuisine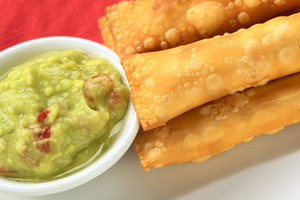 jump to the recipes

This is one of my favorite styles of food with it's festive colors and varied flavors. Most of the recipes you'll find here are of Mexican origin but we have others from Costa Rica, Guatemala, and other regions of Central America.

There are some recipes that are considered Central American but really are American creations. Since there is often a fine line between authentic and non-traditional, we've included them here as well so they are easy to find.
Canned Salsa

18 reviews 2 comments
Made with lime juice, cider vinegar, salt, tomatoes, jalapeno peppers, onion, garlic, fresh cilantro
stovetop
Debbie's Mexican Shredded Beef (Carnitas)

8 reviews
Made with salt, stewed tomatoes, cumin, beef chuck roast, salsa, garlic, chili powder, fresh oregano
stovetop, oven
Buffalo Chicken Enchiladas with Creamy Ranch Sauce

5 reviews
Made with cheddar cheese, flour tortillas, cream of chicken soup, ranch dip, green onions, chicken, buffalo wing sauce
oven
Creamy Beef Enchilada Casserole

12 reviews 3 comments
Made with corn tortillas, longhorn cheese, enchilada sauce, ground beef, cream of mushroom soup, tomato soup, cream of chicken soup, green chiles
stovetop, oven
Chili's Salsa

13 reviews
Made with sugar, cumin, garlic salt, onion, diced tomatoes and green chiles, whole peeled tomatoes, jalapenos
Tamale Pie Casserole

5 reviews
Made with tomato sauce, corn, ripe olives, salt, black pepper, chili powder, garlic, green bell pepper, milk
oven, stovetop
Crescent Taco Pie

7 reviews
Made with cheddar cheese, sour cream, ground beef, taco seasoning mix, water, crescent dinner rolls, corn chips
oven, stovetop
Beef Fajitas

3 reviews
Made with flank steak, onion, green bell pepper, red bell pepper, jalapeno pepper, cilantro, garlic, chili powder, cumin, ground coriander
crock pot
Baked Tacos

2 reviews
An easy baked version of tacos made by filling flour tortillas with ground beef, beans, salsa, and seasonings. The tacos are baked in the oven and garnished with your standard taco fixings.
oven, stovetop
El Torito Salsa

3 reviews
This version of the restaurant's famous salsa contains both canned and fresh tomatoes, onion, jalapenos, serranos, cumin, oregano, and fresh cilantro.
Shredded Beef Soft Tacos
Made with liquid smoke, bay leaves, beef bouillon granules, garlic, cider vinegar, ketchup, dry red wine, green bell peppers, yellow onion, top sirloin steak or sirloin tip roast, all visible fat
crock pot
Chipotle Carnitas

4 reviews
Made with water, pork butt, chicken broth, bay leaves, onion, ground cumin, cilantro, oregano, chipotle chilies en adobo, adobo sauce
stovetop, oven