home > recipes > meals / dishes > side dishes > vegetables > vegetables D-Q > potatoes > sweet potatoes and yams
Sweet Potatoes and Yams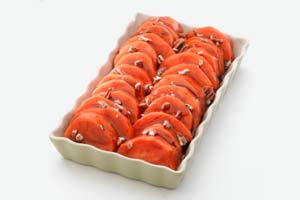 Today, sweet potatoes and yams are mostly used interchangeably to mean sweet potatoes. True yams aren't related to sweet potatoes. High in Vitamin C and A, these tasty items are often considered healthier than their regular potato counterpart. Sweet potatoes and yams are delicious baked, cooked as fries, in casseroles, pureed in soups, mashed or used as a pie filling.
cdkitchen's recommended recipes
Get our best recipes delivered right to you!
Sign up for our newsletters that feature hand-picked recipes