RELATED
Cook Time
Cook Method
Nutrition
Cooking Articles:
Recipe Newsletter
Risotto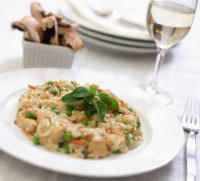 jump to the recipes

Risotto is an Italian dish made from a short grain rice like Arborio. Hot liquid is added in small batches to the rice while constantly stirring and is allowed to fully cook in before adding more, resulting in a creamy rice. Because of this process it takes longer to cook and is a bit more labor intensive than other rice dishes.

Risotto is very popular in restaurants in a variety of flavors such as pumpkin, mushroom, seafood (shrimp, scallops, lobster) and vegetables such as asparagus, leeks, and corn. Other grains can also be used for a non-traditional risotto such as barley or couscous.

Tips: chicken stock is the most common liquid used in risotto but it can be high in sodium. If you wish to reduce the sodium content of these recipes use a lower salt chicken broth and add salt (or a salt substitute) to taste. There is often additional salty flavor from the other ingredients (like any added cheese) so it's easier to add salt as needed when starting with a less salty broth.
Shrimp And Vegetable Risotto
Ingredients: water, shrimp/crab boil seasoning, butter, shallots, garlic, red bell pepper, yellow bell pepper, celery, cooked shrimp, Arborio rice
stovetop
Italian Seafood Risotto With Porcini Mushrooms
Ingredients: arborio rice, olive oil, chicken stock, more as needed, dried porcini mushrooms, boiling water (to reconstitute the dried porcinis), dry, white wine, medium or large shrimp, scallops, garlic, onions or shallots, finely minced
Show Dish Data™ ▼
Sweet Corn And Crab Risotto
1 review

Ingredients: salt, jalapeno, Parmesan cheese, spinach, crabmeat, white wine, arborio rice, onions, chicken stock, olive oil
stovetop
Show Dish Data™ ▼
Lobster Risotto
Ingredients: live lobster (2- to 3-lb. size), olive oil, leek, trimmed, cleaned and chopped, carrot, trimmed and chopped, celery, garlic, tomato paste, white wine, water
Show Dish Data™ ▼
Creamy Risotto
8 reviews

"A basic but flavorful version. Easy instructions make it foolproof."
Ingredients: Parmesan cheese, water, chicken broth, white wine, rice, butter, onion, salt and ground white pepper, heavy cream
stovetop
Show Dish Data™ ▼
Basic Risotto
4 reviews

Ingredients: stock, Parmesan cheese, onion, olive oil, white wine, white arborio rice
stovetop
Show Dish Data™ ▼
Couscous Risotto With Wild Mushrooms And Pecorino Cheese
"This recipe has a creamy, risotto-like texture and is packed full of delicious mushrooms. The larger Israeli couscous gives it extra "bite""
Ingredients: wild mushrooms, chives, pecorino cheese, tomato, lemon zest, white wine, chicken or vegetable stock, olive oil, Israeli couscous
stovetop
Show Dish Data™ ▼
Parmesan Risotto
"A slow cooker version that yields creamy and delicious results"
Ingredients: chicken broth, white wine, arborio rice, onion, olive oil, salt, Parmesan cheese
crock pot, stovetop
Show Dish Data™ ▼
Risotto with Chicken, Spinach and Lemon
1 review

Ingredients: chicken stock, white wine, arborio rice, spinach, lemon, scallions, garlic, onion, all-purpose flour, olive oil
stovetop
Show Dish Data™ ▼
Risotto With Chicken, Lemon Grass And Coconut Milk
Ingredients: fish sauce, coconut milk, chicken broth, red pepper flakes, arborio rice, onion, salt, lemongrass, scallions, garlic
stovetop
Show Dish Data™ ▼
Scampi With Risotto
Ingredients: arborio rice, salt and pepper, chives or green onions, butter, white wine, olive oil, dried tarragon, parsley, lemon juice
stovetop
Show Dish Data™ ▼