home > recipes > meals / dishes > rice dishes > risotto
Risotto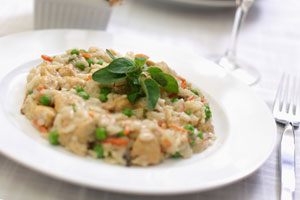 jump to the recipes

Risotto is an Italian dish made from a short grain rice like Arborio. Hot liquid is added in small batches to the rice while constantly stirring and is allowed to fully cook in before adding more, resulting in a creamy rice. Because of this process it takes longer to cook and is a bit more labor intensive than other rice dishes.

Risotto is very popular in restaurants in a variety of flavors such as pumpkin, mushroom, seafood (shrimp, scallops, lobster) and vegetables such as asparagus, leeks, and corn. Other grains can also be used for a non-traditional risotto such as barley or couscous.

Tips: chicken stock is the most common liquid used in risotto but it can be high in sodium. If you wish to reduce the sodium content of these recipes use a lower salt chicken broth and add salt (or a salt substitute) to taste. There is often additional salty flavor from the other ingredients (like any added cheese) so it's easier to add salt as needed when starting with a less salty broth.
Creamy Risotto
11 reviews
Made with heavy cream, salt and ground white pepper, onion, butter, rice, white wine, chicken broth, water, Parmesan cheese
stovetop
Parmesan Risotto
5 reviews
Love risotto but don't have time to stand around stirring? Try this delicious crock pot recipe that uses arborio rice, white wine, chicken broth, and parmesan cheese.
crock pot, stovetop
Couscous Risotto With Wild Mushrooms And Pecorino Cheese
2 reviews
The cooking method of risotto is used with large pearl couscous in this recipe containing shiitake mushrooms, wild mushrooms, white wine, tomato, and pecorino cheese.
stovetop
Basic Risotto
5 reviews 1 comment
Made with olive oil, onion, white arborio rice, Parmesan cheese, stock, white wine
stovetop
Scampi With Risotto
Made with lemon juice, parsley, dried tarragon, olive oil, white wine, butter, chives or green onions, salt and pepper, arborio rice
stovetop
Vegetarian Risotto with Fresh Vegetables
2 reviews
Made with vegetable stock or vegetable broth, olive oil, onions, Arborio rice, salt, Parmesan cheese, black pepper, broccoli florets, spinach, or zucchini, bell peppers, etc
stovetop
Sausage And Vegetable Risotto
1 review
Made with sweet Italian sausages, water, onion, butter, white wine, arborio rice, zucchini, kosher salt, fresh baby spinach, Parmigiano-Reggiano cheese
crock pot, stovetop
Basic Risotto With Shrimp
Made with saffron, arborio rice, shrimp, olive oil, onion, white wine, chicken stock, butter, Parmesan cheese, heavy cream
stovetop
Fresh Corn Risotto
1 review
Made with Parmiagiano Reggiano cheese, vegetable or chicken broth, fresh corn kernels, olive oil, green onions, Arborio rice
stovetop
Shrimp And Mussels Risotto
Made with parmesan cheese, salt and pepper, shallots, olive oil, arborio rice, fish stock, butter, herbs, mussels, shrimp
stovetop
Brown Rice Mushroom Risotto
4 reviews 1 comment
Made with basil, salt and pepper, mushrooms, long grain brown rice, vegetable stock, cream of mushroom soup
crock pot
Risotto With Spinach And Mushrooms
Made with parmesan cheese, vegetable broth, water, non-stick cooking spray, olive oil, mushrooms, onion, Arborio rice, dry vermouth, frozen chopped spinach
stovetop