home > recipes > meals / dishes > side dishes > vegetables > vegetables A-C > cauliflower > mashed cauliflower
Mashed Cauliflower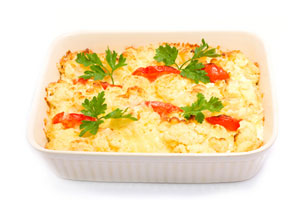 jump to the recipes

Mashed cauliflower is a great alternative to mashed potatoes! Steam, boil or bake the cauliflower then mash or puree. Top with your favorite potato toppings and you will hardly notice the difference - great for low carb and South Beach dieting.
Low Carb Mashed Faux-Tatos
6 reviews 1 comment
Cauliflower florets are steamed then mashed with cream cheese and butter to make a great substitute for mashed potatoes.
stovetop
Mashed Scallion Cauliflower With Fennel
1 review
Made with marjoram, scallions, cauliflower, fennel, buttermilk
stovetop
Basic Cauliflower Mash
10 reviews 1 comment
Made with cauliflower, whipping cream, salt, butter, Parmesan cheese, cream cheese
stovetop
Mock Mashed Potatoes
2 reviews
Made with salt and pepper, butter, cauliflower, sour cream
stovetop, microwave
Garlic Mashed Faux-Tatoes
1 review
Made with butter, cauliflower, cream cheese, Parmesan cheese, garlic, chicken base or bouillon, black pepper, chives
stovetop
Faux Mashed 'Potatoes'
1 review
Made with salt, frozen cauliflower, skim milk, chicken bouillon granules
stovetop
Simple Cauliflower Mash
4 reviews
Made with green onion, cauliflower, ranch salad dressing
stovetop
Creamy Mashed Cauliflower
Made with onion powder, garlic powder, white pepper, cauliflower, water, cornstarch, heavy cream, sugar, salt
stovetop
Fauxtatoes
Made with salt and pepper, butter, cauliflower, cream cheese
Kraut And Cauliflower Mash
Made with bacon, black pepper, cauliflower, mayonnaise, garlic, sauerkraut, Parmesan cheese, cheddar cheese, green onions, salt
oven