Beans and Peas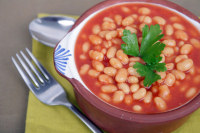 Legumes from black beans to lentils to green peas
5-Bean Bean Bake
Made with white wine vinegar, ketchup, brown sugar, pork & beans, pinto beans, butter beans, lima beans, kidney beans, bacon, onion
oven, crock pot
Big-John's Beans 'N Fixin's
Made with white vinegar, pork and beans, sloppy joe sauce, bacon bits, sugar, molasses, dried minced onion, salt, dry mustard
stovetop
Southern Black Eyed Peas
Made with ham hocks, dried black eyed peas, water, salt, black pepper, onion, celery, salt pork or lean ham
crock pot
Baked Beans
Dress up a simple can of baked beans by adding mustard, ketchup, barbecue sauce, brown sugar, and of course - bacon! Let it simmer all day or cook on high for faster results.
crock pot
Black Eyed Peas
Made with oregano, dried black-eyed peas, water, salt pork, garlic, salt, black pepper
crock pot
Black Eyed Peas with Spinach
Fresh wilted spinach is combined with black eyed peas and seasonings for a quick and low-fat side dish.
stovetop
4th Of July Baked Beans
Made with pork and beans, ham, onion, green bell pepper, ketchup, honey, brown sugar, Worcestershire sauce, hot sauce
stovetop
Baked Beans
Made with salt pork, dried beans, water, onions, whole cloves, molasses, sugar, dry mustard, salt
crock pot, stovetop
Hamburger Baked Beans
Made with ground beef or ground chuck, onion, ketchup, mustard, pork and beans, bell pepper, Worcestershire sauce, brown sugar
oven, stovetop
Baked Beans With Kahlua, Brandy And Rum
Made with sausage, bacon, baked beans, Dijon mustard, chili sauce or tomato sauce, coffee, Kahula, brandy, rum, onion
oven
Lima Bean Casserole
Made with sour cream, dry mustard, dry lima beans, salt, molasses, butter, brown sugar
crock pot