Side Dishes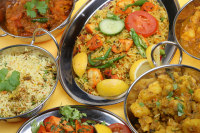 The role of the side dish is to round out and complete the meal. Simple side dishes complement a bold entree. Or, spice up a plain dinner with flavorful sides. CDKitchen has over 11,000 side dishes to peruse. Great choices include mashed potatoes, risotto, bok choy, French fries, cornbread stuffing, couscous, green beans, hush puppies and more.
PF Chang's Coconut Curry Vegetables
Made with brown sugar, onion, red bell pepper, mushrooms, broccoli, carrots or whole sugar snap peas, coconut milk, soy sauce, curry powder
stovetop
Hashbrown Casserole
Made with butter, sour cream, hash brown potatoes, Cheddar cheese soup, cream of mushroom soup
crock pot
Homemade Rice-A-Roni
This copycat recipe is just like the rice mix you buy at the store. It contains rice, vermicelli, and powdered bouillon. Simply saute in butter and add water.
stovetop
Spaghetti Corn Casserole
Made with onion, margarine, spaghetti pasta, Velveeta cheese, cream-style corn, whole kernel corn
oven
Honey-Glazed Roasted Vegetables
Made with honey, wine vinegar or balsamic vinegar, olive oil, garlic, salt and pepper, dried thyme, mixed fresh vegetables
oven
Stove Top-Like Stuffing Mix
Made with chicken broth, butter or margarine, onion, parsley, thyme, dried sage, salt and pepper, bread crumbs or cubes
Baked Potato Casserole
Made with Idaho/Russet potatoes, cheddar cheese, butter, onion, bacon, chives, sour cream, garlic
crock pot
Amish Sauerkraut Salad
Made with water, vinegar, sauerkraut, green bell pepper, onion, celery, pimentos, sugar, salad oil