home > recipes > meals / dishes > soups & salads > salads > meat and seafood salads > turkey salads
Turkey Salads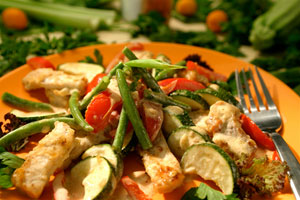 jump to the recipes

Turkey is one of those versatile meats that can be used in so many different kinds of recipes. You can roast it whole, pan-sear a tenderloin, bake turkey cutlets, and even grill some turkey legs.

valerie says: One of the greatest uses of turkey (I think) are the leftovers. There are many ways to use them up but salads are one of my favorites. You can use white meat like the turkey breast or dark meat like the thighs in turkey salad. The meat is always cooked before combining the salad ingredients which is why salads are such a good use for leftovers.

You'll see a tremendous variety in the other salad ingredients in these recipes. Often the recipes contain a starchy ingredient like pasta or rice (wild rice is very good). There is usually a dressing of some sorts, typically mayonnaise based. From there the possibilities are endless in the flavors the salads can take on. Mexican-style with taco seasoning, Italian using a spicy vinaigrette, Asian with a soy sauce mixture, and Indian with warm curry flavors.
Turkey Egg Salad
3 reviews
Made with dark and white meat turkey, celery seed, mayo or salad dressing, hard-cooked eggs, pickle relish, celery, onion
Turkey and Cranberry Salad
Made with mayonnaise, lemon juice, turkey, celery, dried cranberries, dried thyme, dried sage, garlic powder, salt and pepper
Turkey Curry Salad
1 review
Made with prepared mustard, yellow onion, golden raisins, cooked turkey, mayonnaise, curry, celery, apples, sugar
Leftover Turkey Salad
2 reviews
Made with black pepper, salt, dill weed, lemon juice, turkey, celery, green onions, pecans, red bell pepper, mayonnaise
Turkey Waldorf Salad
Made with salt and black pepper, diced cooked turkey breast, celery, fresh parsley, apple, dried cranberries, walnuts, lemon juice, mayonnaise or salad dressing, fresh sage, thyme, oregano, or
Sweet Potato & Leftover Turkey Salad
2 reviews
Made with fresh ginger, cooked turkey, sweet potatoes, dried cranberries, raisins, walnuts, mayonnaise, lemon juice, orange juice, orange peel
Wild Turkey Salad
Made with vinegar, oil, wild rice, water, fresh mushrooms, fresh spinach, green onions, cubed cooked turkey
stovetop
San Francisco Airport Salad
Made with sesame seeds, saifun or cellophane noodles, iceberg lettuce, fresh spinach, green onions, cilantro, peanuts, sesame oil, rice wine vinegar
stovetop
Cashew Turkey Pasta Salad
Made with lemon juice, salt, cider vinegar, cooked, chopped turkey, tricolor spiral pasta, celery, green onions, green bell pepper, mayonnaise, brown sugar
stovetop
Grilled Turkey Salad
Made with jicama, green heirloom tomatoes, mixed salad greens, turkey breast tenderloins, lime juice, chili powder, garlic, tomato vinaigrette salad dressing, jalapeno chile pepper
outdoor grill
Sun-Dried Tomato Turkey Salad
1 review
Made with salt and fresh ground black pepper, pesto, sun-dried tomatoes, deli turkey, zucchini, celery, green onions, carrots, mayonnaise