home > recipes > meals / dishes > soups & salads > salads > salad dressing
Salad Dressings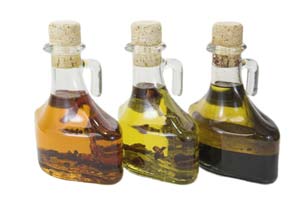 I was never a fan of salads. Then I realized it was because I was using a grocery store salad dressing on them. Too many dressings have a chemical, or unnatural, taste. They are also full of preservatives and other ingredients that are only necessary to preserve the shelf life of the product. I would buy different brands and flavors to try to find something I liked but usually they just ended up taking up room in the door of the fridge until I threw them out a year (or more!) later.

Once I started making my own salad dressings, my views on salads changed dramatically. I actually like salads now! Of course, I like that I can control the ingredients (using the quality and brands I'm most comfortable with) but I also like that I can adjust the flavors to suit my tastes. You can't easily do that with a bottle from the grocery store. Add a little extra garlic, cut down on the vinegar, or throw in some cayenne for good measure. Make it how you like it!

Probably what I like the most about making my own is that I can prepare the amount I need for one meal instead of having to buy a whole bottle that I might not use again. This lets me try a new recipe whenever I want a salad instead of feeling compelled to use up whatever dressings I have in the fridge. And, of course, some salad dressings are multi-purpose so you might want to make more at once. Like blue cheese dressing to go with Buffalo wings, ranch dressing to dip vegetables in, or Italian dressing for marinating meat and poultry.
featured salad dressing recipe
Made with vegetable oil, sugar, salt, paprika, chili powder, celery seed, dry mustard, onion, vinegar, ketchup
view recipe
Get our best recipes delivered right to you!
Sign up for our newsletters that feature hand-picked recipes
search the salad dressing recipes