home > recipes > meals / dishes > soups & salads > salads > lettuce
Lettuce Salads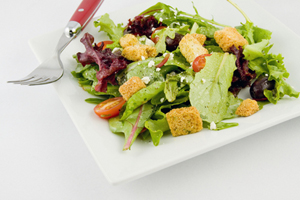 There are hundreds of varieties of lettuce available, some more common than others. Butterhead lettuce includes varieties like Boston and Bibb and has very tender leaves. Crisphead is exactly as it says - crisp! The most common is iceberg which is the lettuce used in wedge salads. Leaf lettuce (or green lettuce) has curly leaves like oak leaf or salad bowl. Lastly is Romaine which has a central rib and crisp long leaves.

These lettuces are often mixed or paired with greens like spinach and dandelion -- both of which aren't lettuce but we've included them in this category because they are used like lettuce in these salads.

Many lettuce based salads have made a real name for themselves. Cobb, Caesar, and chef salads are all standards on restaurant menus and recipes for those favorites can all be found here. Since lettuce itself has a simple flavor you can really change the salad by the other ingredients you add or the dressing you put on it. We have salads that include everything from cranberries to peanuts to pumpkin. Salads can be as hearty or as light as you wish making them ideal for an entree or a first course.
featured lettuce salad recipe
Made with vinaigrette salad dressing, red onion, romaine lettuce, cucumber, feta cheese, kalamata olives, roasted red bell peppers
view recipe
lettuce salad recipe categories
Also known as rocket, arugula has a peppery-bitter flavor that is popular in Italian style salads

view recipes
Get our best recipes delivered right to you!
Sign up for our newsletters that feature hand-picked recipes
search the lettuce salad recipes