home > recipes > meals / dishes > soups & salads > salads > jello salad
Jello Salads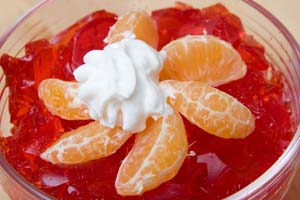 Jiggly Jell-o is delicious as a salad. Served as a dessert or side dish these are popular recipes year-round. For the holidays try a cranberry jello salad. Summer time lime or strawberry flavors are always a hit.
cdkitchen's recommended recipes
Mountain Dew Salad
Made with miniature marshmallows, bananas, lemon pie filling, lemon gelatin powder, water, Mountain Dew soda, pineapple juice, frozen whipped topping
get the recipe →
Get our best recipes delivered right to you!
Sign up for our newsletters that feature hand-picked recipes