home > recipes > meals / dishes > soups & salads > salads > fruit salad
Fruit Salads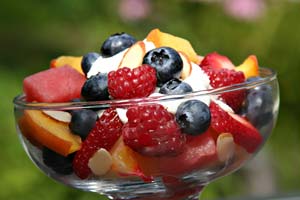 Fruit salad can serve multiple purposes. It can be a casual side dish, a kid-friendly healthy snack, or an elegant dessert. Get creative with tropical or exotic fruits like star fruit or lychees, or keep it simple with a fruit cocktail type salad. Remember, if you are using fruits that brown when exposed to air (like bananas) make sure to brush or spritz them with an acidic mixture like lemon juice to keep them fresh looking.
featured fruit salad recipe
Made with mandarin oranges, (16 oz. size) Acini de Pepe (pasta), oil, water, lemon juice, eggs, pineapple juice, salt, flour, sugar
view recipe
fruit salad recipe categories
Get our best recipes delivered right to you!
Sign up for our newsletters that feature hand-picked recipes
search the fruit salad recipes