home > recipes > meals / dishes > soups & salads > salads > fruit salad
Fruit Salads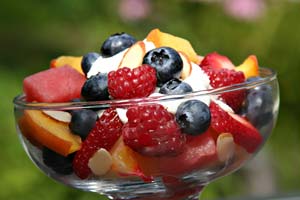 Fruit salad can serve multiple purposes. It can be a casual side dish, a kid-friendly healthy snack, or an elegant dessert. Get creative with tropical or exotic fruits like star fruit or lychees, or keep it simple with a fruit cocktail type salad. Remember, if you are using fruits that brown when exposed to air (like bananas) make sure to brush or spritz them with an acidic mixture like lemon juice to keep them fresh looking.
featured fruit salad recipe
Made with sugar, lime peel, pineapple chunks, strawberries, green seedless grapes, pink grapefruit, navel oranges, kiwis, mangoes
view recipe
fruit salad recipes
Ambrosia refers to "food of the gods" in Greek mythology but in modern day terms it typically means a delicious fruit salad containing coconut

view recipes

A variety of fruits can go into a frozen fruit salad along with a creamy base of cream cheese, sour cream, or frozen whipped topping

view recipes
Get our best recipes delivered right to you!
Sign up for our newsletters that feature hand-picked recipes
search the fruit salad recipes