Coleslaw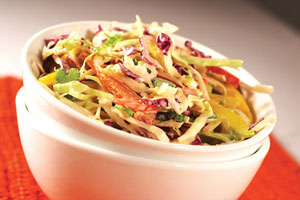 jump to the recipes

Coleslaw is a salad of shredded white cabbage mixed with a dressing made from mayonnaise, vinegar, or salad dressing. Other vegetables (such as shredded carrots) are often added in. Coleslaw is very easy to make with the availability of pre-shredded cabbage (it's also easy to shred your own in a food processor).
KFC Cole Slaw (But Better!)

8 reviews 4 comments
Made with vegetable oil, vinegar, sugar, cabbage, green bell pepper, onion, carrot, salad dressing
Vietnamese Coleslaw With Shredded Chicken And Peanuts

3 reviews
Made with Thai or serrano chiles, onion, sesame seeds, green cabbage, carrots, fresh cilantro, fresh mint, coriander, black pepper
stovetop
Asian Slaw

4 reviews 1 comment
This overnight coleslaw calls for shredded cabbage, toasted almonds, sunflower seeds, ramen noodles, and a light vinaigrette.
Easy Coleslaw

7 reviews
Made with cabbage, carrot, onion, mayonnaise, sugar, vinegar, salt
Famous Dave's Creamy Sweet & Sour Coleslaw

6 reviews 1 comment
Made with celery seeds, garlic powder, salt, red and green cabbage, carrot, Miracle Whip salad dressing, sugar, horseradish, dry mustard, white pepper
Crowd Size Classic Creamy Coleslaw

2 reviews
Made with garlic powder, salt, celery seed, cabbage, carrots, mayonnaise or salad dressing, sugar, vinegar
Bob Evans Cole Slaw

1 review 2 comments
Made with kale, carrot, mayonnaise, milk, sugar, vinegar, Tabasco sauce, salt and pepper, cabbage
Avocado Coleslaw

1 review
Made with avocados, lime juice, sour cream, garlic, salt, cumin, ground red pepper, coleslaw mix, red or green bell pepper, sweet onion
Jalapeno Coleslaw

3 reviews
Made with sour cream, mayonnaise, red wine vinegar, vegetable oil, garlic, pickled jalapeno pepper, salt, black pepper, coleslaw mix
Hawaiian Coleslaw

1 review
Made with mayonnaise or tart salad dressing, white pepper, green cabbage, mandarin orange slices, crushed pineapple, salt, ground ginger, ground nutmeg, orange juice
Apple Cowboy Slaw

2 reviews 1 comment
Made with green or red seedless grapes, dill pickles, mayonnaise, vinegar, sugar, brown mustard, salt, black pepper, cabbage, apples
Homemade Cole Slaw

2 reviews
Made with mayonnaise, cider vinegar, sugar, cabbage