home > recipes > meals / dishes > soups & salads > salads > coleslaw > chinese-style
Chinese Coleslaw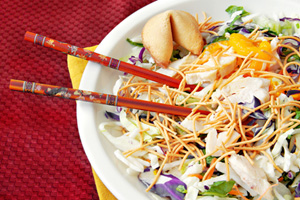 jump to the recipes

Chinese cole slaw is a popular side dish/salad recipe. It has tasty Asian flavors and crisp noodles. These recipes go great with bbq, burgers, grilled chicken and a wide variety of other main dishes. A perfect dish to take to your next potluck barbecue!
Asian Cole Slaw With Ramen Noodles
8 reviews 2 comments
This overnight coleslaw calls for shredded cabbage, toasted almonds, sunflower seeds, ramen noodles, and a light vinaigrette.
Asian Coleslaw
1 review
Made with vegetable oil, peanut butter, soy sauce, brown sugar, fresh ginger root, garlic, green cabbage, red cabbage, napa cabbage, red bell peppers
Asian Napa Cabbage Slaw With Sesame Seeds
1 review 1 comment
Made with lime juice, napa cabbage, carrots, snow peas, red bell pepper, scallions, fresh cilantro, ginger, rice wine vinegar, soy sauce
Spicy Asian Slaw With Peanuts
Made with peanuts or cashews, green onions, raisins, rice vinegar, soy sauce, dark sesame oil, red pepper flakes, coleslaw mix