Chicken Salads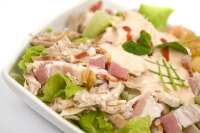 Chicken salad makes for a quick and easy meal. Traditional chicken salad recipes call for mayonnaise while others use a vinaigrette or other salad dressing. You can always use low-fat or fat-free ingredients to lower the calories and make a healthier version! Chicken salad makes a great picnic or backyard bbq food as it can be served alone or on buns for a sandwich. And don't forget you can make hot chicken salad too - the salad that eats like a casserole!
Easy Chicken Salad Sandwiches
Made with iceberg lettuce, poultry seasoning, chicken, celery, onion, olives, hard boiled egg, Miracle Whip salad dressing
Japanese Chicken Salad
This simple Asian-style salad features cooked chicken tossed with salad greens, noodles, almonds, and poppy seeds and a tasty vinaigrette.
Elegant Buffalo Chicken Salad
Made with blue cheese salad dressing, mixed salad greens, hot pepper sauce, Cajun seasoning, water, breaded chicken breast tenderloins or nuggets, celery, grape or cherry tomato, red onion
oven
Grilled Cajun Chicken Salad
Seasoned, grilled sausage and chicken are served atop salad greens with honey mustard salad dressing and garnished with delicious sweet-and-spicy nuts.
outdoor grill, stovetop
Macaroni Grill Insalata Florentine
Made with Roma tomatoes, pine nuts, sun-dried tomatoes, capers, radicchio, black olives, orzo pasta, lemon vinaigrette, Parmesan cheese, black pepper
Chunky Chicken Salad
Made with mayonnaise, Worcestershire sauce, parsley, chives, basil, black olives, black pepper, salt
Fried Chicken Salad
Made with breaded chicken breast tenderloins, flour tortillas, canola oil, cheddar monterey jack cheese blend, romaine lettuce, carrots, cucumber, grape tomatoes, bacon
oven
Old Fashioned Chicken Salad
Made with chickens, celery, hard-boiled eggs, sweet salad cubes, Miracle Whip salad dressing, sugar, salt, black pepper
stovetop
Cracker Barrel's Chicken Salad
Made with mayonnaise-type salad dressing, chicken breasts, chicken bouillon cubes, chunk chicken, dill pickle relish, onion, celery, mayonnaise, sour cream
stovetop