Salads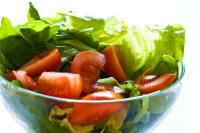 Salads come in a variety of forms from your basic lettuce, to salad, to Jello, to creamy egg, ham or tuna salads. Salads can have seafood in them or just vegetables. They can even have grains like couscous or rice. And they can be served hot or cold. See how versatile salads can be? With over 6,000 recipes we're pretty sure you'll find a salad to suit any occasion.

Fun Food Holiday: May is National Salad Month.
Golden Corral Crab Salad
The Golden Corral is known for several of their buffet items but the most requested one is always their crab salad made with imitation crab, ranch salad dressing, mayo, green onion, bell pepper, and celery.
Chinese Ramen Noodle Salad
Made with sugar, oil, cabbage, scallions, Ramen noodles, almonds, butter or margarine, rice wine vinegar
stovetop
No-Mayonnaise Potato Salad
Made with salt, red-skinned potatoes, red onion, black olives, scallions, olive oil, red wine vinegar, Dijon mustard
El Torito's Mexican Caesar Salad
Made with red wine vinegar, cilantro, mayonnaise, water, corn tortillas, vegetable oil, romaine lettuce, Cotija cheese, roasted red bell pepper
stovetop
Chilled Cucumber Salad
Made with cayenne pepper, black pepper, dill weed, cucumbers, salt, onions, vinegar, water, sugar
Ruby Tuesday's Pasta Salad
Made with Parmesan or Romano cheese, macaroni, ham, sharp Cheddar cheese, frozen peas, sour cream, mayonnaise, lemon juice