home > recipes > meals / dishes > dinner meals > skillet dinners
Skillet Dinners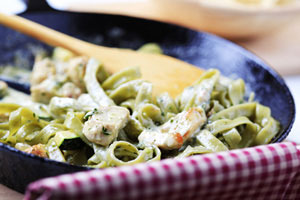 jump to the recipes

Skillet meals are easy to cook and serve. For most of the recipes they are cooked in a single skillet making clean up a snap.
Skillet Pineapple Shrimp
3 reviews
Made with lemon juice, orange juice, cornstarch, water, pineapple chunks, oil, garlic, fresh ginger, medium shrimp
stovetop
Cajun Sausage And Rice Skillet
7 reviews
Made with kidney beans, chicken broth, fresh mushrooms, onion, Cajun seasoning, smoked turkey sausage, rice
stovetop
Drumstick Skillet with Rice
2 reviews
Chicken drumsticks are browned and then simmered in a flavorful rice and vegetable mixture.
stovetop
Potato And Beef Skillet
1 review
Made with tortilla chips, ground beef, au gratin potatoes, whole kernel corn with red and green peppers, water, taco-seasoned Cheddar or Monterey Jack cheese
stovetop
Southwestern Cheesy Chicken Skillet
2 reviews 1 comment
Made with fresh parsley, sour cream, boneless skinless chicken breasts, elbow macaroni pasta, water, Mexican cheese, diced tomatoes with green chiles
stovetop
Chicken And Black Bean Skillet
1 review
Chicken, salsa, rice, and black beans make up this easy skillet dinner.
stovetop
One-Skillet Spaghetti
2 reviews
Made with sugar, dried oregano, ground beef, onions, spaghetti pasta, tomatoes, green bell pepper, water, mushrooms, chili powder
stovetop
Bratwurst Potato Skillet
1 review
Made with black pepper, salt, dried basil, orange juice, vegetable oil, red potatoes, bratwurst, onion, green bell pepper, soy sauce
stovetop
Easy Skillet Lasagna
1 review
Made with ricotta cheese, Parmesan cheese, egg noodles, ground meat, garlic, dried basil, salt, black pepper, tomatoes with green pepper, celery and onions, tomato sauce
stovetop
Easy Chicken Tomato Skillet
Made with salt and ground black pepper, Parmesan cheese, dried basil, non-stick cooking spray, chicken breasts, (28 oz size) diced tomatoes with basil, garlic and oregano, water, long-grain rice
Skillet Chicken Paella
Made with rice, dried oregano, chicken broth, garlic, paprika, black pepper, salt, saffron, red bell pepper, tomatoes
stovetop
Skillet Meat Loaf With Tangy Glaze
Made with black pepper, dry mustard, celery salt, Worcestershire sauce, vegetable oil, onion, ground pork, ground beef, bottled chili sauce
stovetop, oven