Cook Time
Cook Method
Recipe Newsletter
Skillet Dinners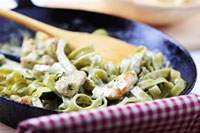 Skillet meals are easy to cook and serve. For most of the recipes they are cooked in a single skillet making clean up a snap.
Meatball Bean Skillet
Ingredients: ground beef, soft bread crumbs, fresh parsley, salt, pepper, evaporated milk, cooking oil, onion, pork and beans in tomato sauce, ketchup
stovetop
Hide Dish Data™ ▼
Nutrition per serving:
431 calories, 21g fat, 39g carbs, 23g protein.
Skillet Turkey Parmesan
Ingredients: olive oil, garlic, diced tomatoes, chopped fresh basil, divided, fresh parsley, balsamic vinegar, tomato paste, sugar, salt, breadcrumbs
Skillet Pineapple Shrimp
1 review

Ingredients: medium shrimp, fresh ginger, garlic, oil, pineapple chunks, water, cornstarch, orange juice, lemon juice
stovetop
Show Dish Data™ ▼
Cajun Sausage And Rice Skillet
5 reviews

Ingredients: chicken broth, rice, turkey sausage, Cajun seasoning, onion, mushrooms, kidney beans
stovetop
Show Dish Data™ ▼
Cube Steak Skillet Supper
1 review

Ingredients: potatoes, onion, oil, cube steaks, black pepper, salt, flour, green beans, mushroom soup, paprika
stovetop
Show Dish Data™ ▼
Potato And Beef Skillet
Ingredients: taco-seasoned Cheddar or Monterey Jack cheese, water, whole kernel corn with red and green peppers, au gratin potatoes, ground beef, tortilla chips
stovetop
Show Dish Data™ ▼
Chicken And Black Bean Skillet
Ingredients: black beans, water, uncooked instant rice, salsa or picante sauce, olive oil, boned and skinned chicken breasts, salt, pepper
stovetop
Skillet Chicken And Rice
Ingredients: skinless, boneless chicken thighs, olive oil, red bell pepper, onion, garlic, curry powder or dried oregano, salt, pepper, long-grain rice, chicken broth
stovetop
Barbecue Chicken & Rice Skillet
3 reviews

Ingredients: barbecue sauce, water, boneless skinless chicken breast halves, oil, corn, instant white rice
stovetop
Show Dish Data™ ▼