Sandwiches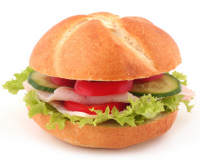 Sandwiches make a great meal whether for lunch, dinner, or even breakfast. Sandwiches can be served cold like club or tuna. Or hot like the popular Reuben or calzone. How about a Dagwood or a panini? So many sandwiches to choose from!
P.F. Chang's Lettuce Wraps with Chicken
Made with water chestnuts, lettuce leaves, ground chicken, onion, garlic, soy sauce, hoisin sauce, fresh ginger, rice wine vinegar, chili pepper sauce
stovetop
Bennigan's Monte Cristo
Made with wheat bread, all-purpose flour, baking powder, salt, water, egg, oil, powdered sugar, red raspberry jelly
stovetop
Big Boy Slim Jim Sandwich
Made with butter or margarine, sandwich sauce or Thousand Island salad dressing, baked ham, Swiss cheese, hoagie or sub-style sandwich roll, tomato, lettuce
stovetop
Costco Chicken Bake
Made with Parmesan cheese, Caesar salad dressing, pizza dough, chicken breast, mozzarella-provolone blend cheese, bacon, green onion
oven
Veggie Wraps
Made with red bell pepper, flour tortillas, hummus, spinach, carrots
Chipotle Chicken Wraps
Made with dried chipotle pepper, parsley, fresh cilantro, garlic, salt, black pepper, olive oil, boneless, skinless chicken breasts
outdoor grill, oven
Easy Chicken Salad Sandwiches
Made with iceberg lettuce, poultry seasoning, chicken, celery, onion, olives, hard boiled egg, Miracle Whip salad dressing
Turkey And Tomato Cobb Wrap
Made with avocado, bacon, flour tortillas, blue cheese dressing, cooked turkey breast, tomatoes, Boston, iceberg or leaf lettuce
stovetop
Spicy Joes
Sloppy joes are great in the crock pot! This spicy version is made with ground beef and gets its heat from spicy V8 juice, chili powder, and jalapenos.
stovetop, crock pot
Avocado Tuna Sandwich
Made with tuna, whole grain bread, avocado, mayonnaise, hard-boiled egg, black pepper, cheese