Pizza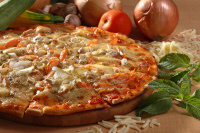 All kinds of pizza recipes from Chicago and NY style to the unusual like Arugula And Prosciutto Tortilla Pizzas. Also check out our homemade pizza dough recipes.
Pizza Hut Original Pan Pizza
Make your own Pizza Hut pan pizza at home. This copycat recipe for the crust and sauce tastes just like the pizzas you get at Pizza Hut.
oven
Spicy Mexican Pizza
Made with colby-monterey jack cheese, ripe olives, refrigerated pizza crust, chorizo, tomato sauce, chipotle chile in adobo sauce, fresh cilantro
oven, stovetop
Pizza Sauce
Made with salt, oregano, basil, onion, garlic, olive or vegetable oil, tomato sauce, tomato paste, sugar
stovetop
Chicken Taco Pizza
Made with red onion, plum tomatoes, mozzarella cheese, pizza crust, refried beans, salsa, chicken breast halves, taco seasoning mix, Cheddar cheese, Monterey jack cheese
oven, stovetop
Blender Pesto
Made with butter, Romano pecorino cheese, fresh basil, olive oil, pine nuts, garlic, salt, Parmesan cheese
Christmas Pizza
Made with pepperoni, mozzarella cheese, pizza crust, green bell pepper, red pepper, frozen broccoli florets, olive oil, garlic salt, spaghetti sauce
oven, stovetop
Breakfast Pizza
Made with Parmesan cheese, black pepper, salt, sausage, crescent rolls, hash browns, sharp Cheddar cheese, eggs, milk
oven, stovetop
Muffaletta Pizza
Made with pizza crust, garlic powder, olive oil, salt, mozzarella cheese, provolone cheese, Parmesan cheese, salami
oven