home > recipes > meals / dishes > dinner meals > meat and poultry dishes > meatloaf
Meatloaf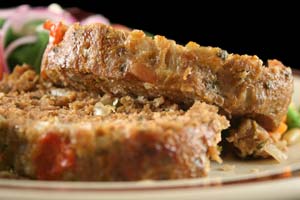 Meatloaf is made from a mixture of ground meat (beef, pork, lamb, turkey, etc) that is mixed with seasonings and a binding agent like eggs or breadcrumbs. It is usually formed into a loaf and baked on a rimmed baking sheet, or cooked in a loaf pan.

Once baked, meatloaves are sliced and served hot or cold, sometimes with a sauce or condiment. Leftover meatloaf makes a great sandwich!

Meatloaf is usually considered somewhat of a "homey" dish but in the last few years some upscale restaurants have started adding comfort foods like meatloaf to their menus.

Tips: The juiciest meatloaf is made by using a combination of meats. Using just ground beef can turn out dry. If you do use ground beef, make sure it's at least 15% fat. Do not overwork the meat when mixing. To cut the calories, use half ground turkey breast or chicken in place of some of the fattier meat. There are special meatloaf pans available that have holes in the bottom to let grease drain off while cooking.
featured meatloaf recipe
Made with egg, tomato juice, ground beef, oats, onion, salt, black pepper
view recipe
meatloaf recipes
All kinds of goodness is stuffed inside these meatloaves - from simple cornbread stuffing to macaroni and cheese!

view recipes

Similar to regular meatloaf, these recipe are made with ground ham instead and often served with a tangy sauce.

view recipes
Get our best recipes delivered right to you!
Sign up for our newsletters that feature hand-picked recipes
search the meatloaf recipes