home > recipes > meals / dishes > pasta dishes > lasagna
Lasagna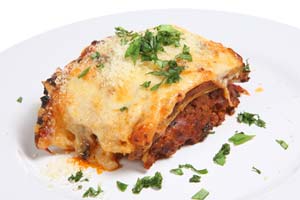 Delicious layers of pasta and filling make this a family favorite. Be creative and try new fillings.

Fun Food Holiday: July 29th is National Lasagna Day.
featured lasagna recipe
Made with dry lasagna, Parmesan cheese, olive oil, shallot, garlic, plain pumpkin puree, ricotta cheese, Thai red curry paste, coconut milk, Thai basil leaves
view recipe
lasagna recipes
Instead of layering the lasagna ingredients, these recipes roll up the filling inside the lasagna noodles and bake them that way.

view recipes
Get our best recipes delivered right to you!
Sign up for our newsletters that feature hand-picked recipes
search the lasagna recipes