home > recipes > meals / dishes > dinner meals > meat and poultry dishes > hot dogs and bratwurst
Hot Dogs and Brats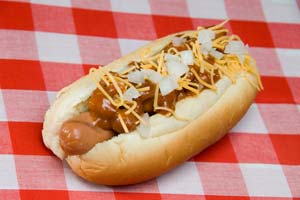 Hot dogs are a kid favorite and are quick and easy to prepare. Want more than a hot dog? Check out the recipes for chili dogs, Coney Island dogs, and corn dogs! Grown-ups love brats (bratwurst) which are great on the grill.
featured hot dog and brat recipe
Made with crescent roll dough, hot dogs or smoked sausage
view recipe
hot dog and brat recipes
Bratwurst (aka brats) are great on the grill, or simmered in beer, or used in a casserole recipe.

view recipes

Make Coney Island style hot dogs at home with our collection of tasty recipes.

view recipes
Get our best recipes delivered right to you!
Sign up for our newsletters that feature hand-picked recipes
search the hot dog and brat recipes