Mexican Ground Beef Casseroles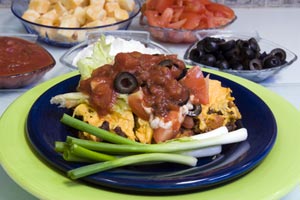 jump to the recipes

Tasty ground beef casseroles with spicy Mexican flavors. Some of our favorites are Mexican nacho casserole, terrific tortilla pie, and taco hotdish.
Creamy Beef Enchilada Casserole

12 reviews 3 comments
Made with corn tortillas, longhorn cheese, enchilada sauce, ground beef, cream of mushroom soup, tomato soup, cream of chicken soup, green chiles
stovetop, oven
Beef Enchilada Casserole

7 reviews
This enchilada-style dish is made with ground beef, onion, enchilada sauce, salsa, green chiles, flour tortillas, corn, and cheddar cheese.
stovetop, oven
Mexican Hamburger Casserole

3 reviews
Made with cheese, diced tomatoes with green chiles, ground beef, corn chips, onion, cream of mushroom soup
oven, stovetop, crock pot
Absolutely The Best Enchiladas

1 review 1 comment
Made with green bell pepper, onion, ground beef, cheddar cheese, mozzarella cheese, Velveeta cheese, tomatoes with green chilies, corn tortillas, chili
stovetop
Taco Crunch Casserole

2 reviews
Made with Cheddar cheese, tortilla chips, salsa, water, ground beef, onion, green bell pepper, frozen sweet corn, taco seasoning mix
oven, stovetop
Mexican Skillet Casserole
Made with cheddar cheese, water, salt, pepper, and garlic powder, ground beef, onion, tomatoes, ranch-style beans, rice, chili powder
stovetop
Cheesy Enchilada Casserole

2 reviews 1 comment
Made with ground beef, garlic, tomato sauce, cumin, corn tortillas, lettuce, tomato, bell pepper, pinto beans, picante sauce
stovetop, oven
15 Minute Taco Rice Casserole

3 reviews
Made with tomatoes, lettuce, ground beef, water, taco seasoning mix, instant rice, black pepper, cheddar cheese, tortilla chips
stovetop
Layered Enchilada Casserole

2 reviews
Made with corn tortillas, Cheddar cheese, ground beef, whole tomatoes, onion, garlic, ground red pepper, salt, tomato paste
stovetop, crock pot
Taco Rice

1 review 1 comment
Made with cooked rice, canned tomatoes, ground beef, onion, taco seasoning mix
stovetop
Beef Taco Casserole

2 reviews
Made with Cheddar cheese, ground beef, onion, kidney beans, tomato sauce, chili powder, garlic salt, tortilla chips
oven, stovetop