home > recipes > meals / dishes > dinner meals > meat and poultry dishes > burgers
Burgers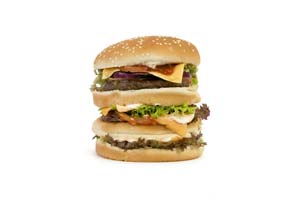 Homemade burgers are one of those great foods that are good any time of the year. In the summer, fire up the grill and throw some patties on. Top with your favorite toppings (like spicy mayo and caramelized onions, or maybe a wasabi-mayo slaw?) and serve on a bun. Can't grill? No problem! Burgers are also good pan fried or broiled. Try a new twist on any burger recipe by making them into mini burgers - perfect for appetizers or snacks!

Fun Food Holidays: The second Sunday of May kicks off National Hamburger Week and May 28 is National Hamburger Day.
featured burger recipe
Made with sesame seed buns, ground beef, Worcestershire sauce, white onion, Cheddar cheese, bacon, salt and pepper, cayenne pepper, lemon-pepper seasoning, Creole seasoning
view recipe
burger recipes
Don't pile the good stuff on top of your burgers, stuff it inside! Bacon, cheese, mushrooms - all your favorite toppings can go inside to make a tasty and juicy burger.

view recipes

These burgers take a different twist using chicken instead of beef.

view recipes
Get our best recipes delivered right to you!
Sign up for our newsletters that feature hand-picked recipes
search the burger recipes