Dinner Recipes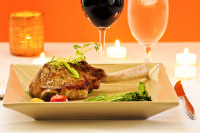 Delicious dinners for beef, chicken, vegetarian, seafood, fish, pork, ham and more main dishes. No need for fast food or dining out with these tasty dinners! Whether you are looking for dinner party recipes, healthy dinners, or quick and easy main dishes we have over 25,000 recipes to choose from.
use the

+

and

-

buttons to view more content
Main Dish Categories
Dinner Dilemmas - Solved!
CDKitchen's slate of cooking experts have cooked up some great dinner ideas.
-
+
Recipe Newsletter
Sign up for our newsletters with daily featured recipes, new menus, posts from Valerie's blog and more!
Cooking Tips
Buffets, Laying Out Dinnerware
Stack large dinner plates at the start of the buffet table and silverware and napkins at the end. This way hands are freer to fill up the plates and aren't loaded down until the last moment. Also, this way people won't forget their silverware or napkins (how many times have you done that??)