Dinner Recipes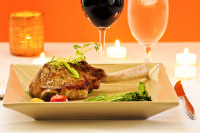 Delicious dinners for beef, chicken, vegetarian, seafood, fish, pork, ham and more main dishes. No need for fast food or dining out with these tasty dinners! Whether you are looking for dinner party recipes, healthy dinners, or quick and easy main dishes we have over 25,000 recipes to choose from.
Pizza Hut Original Pan Pizza
Make your own Pizza Hut pan pizza at home. This copycat recipe for the crust and sauce tastes just like the pizzas you get at Pizza Hut.
oven
P.F. Chang's Lettuce Wraps with Chicken
Made with water chestnuts, lettuce leaves, ground chicken, onion, garlic, soy sauce, hoisin sauce, fresh ginger, rice wine vinegar, chili pepper sauce
stovetop
Olive Garden Chicken Scampi
Made with garlic, red pepper, cilantro, Italian seasoning, black pepper, white wine, chicken broth, white sauce, angel hair pasta
oven, stovetop
Homemade Chili
Made with black pepper, ground beef, onion, garlic, tomatoes, kidney beans, tomato paste, chili powder, sugar, salt
crock pot, stovetop
Marie Callender's Chicken Pot Pie
Made with boneless, skinless chicken breasts, carrots, celery, onion, chicken bouillon granules, black pepper, butter, cornstarch, flour, heavy whipping cream
oven, stovetop
West Indian Chicken Roti
Made with baking powder, butter, water, oil, chicken, vegetable oil, onion, garlic, curry powder
oven
Wendy's Chili
Made with garlic powder, ground beef, tomato juice, tomato puree, red beans, onion, celery, green bell pepper, chili powder, cumin
stovetop
Elk Meat Loaf
Made with apple cider vinegar, Dijon mustard, brown sugar, elk, eggs, tomato sauce, onion, bread crumbs, salt, black pepper
oven
White Chicken Chili
Made with corn, great northern beans, skinless chicken thighs, onion, garlic, chicken broth, cumin, oregano, salt and pepper, red pepper sauce
crock pot