Punch With Alcohol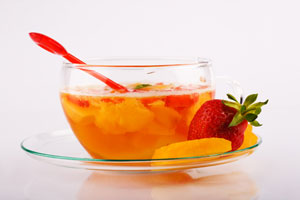 jump to the recipes

Punch recipes with an alcoholic kick! Great for grown up parties. Remember to drink responsibly when sampling these drink recipes for such delicious punch as Champagne Punch or Brandy Slush
Vodka Fruit Punch

9 reviews
A great summertime punch made with pineapple, orange, and lemon juices mixed with ginger ale for fizz, vodka for a kick, and garnished with orange sherbet and maraschino cherries.
Vodka Punch

5 reviews
The combination of cranberry juice, lemonade and 7-UP gives this vodka punch a very refreshing taste.
Margarita Punch

9 reviews 3 comments
A great way to serve margaritas to a crowd. The traditional margarita ingredients of tequila, triple sec, and sour mix are combined with ginger ale and lime sherbet to create a creamy lime-colored punch.
Open House Punch

5 reviews
This smooth tasting punch is made with lemonade and orange juice with lemon-lime soda and a bottle of Southern Comfort. Yes, a bottle.
Party Hearty Rum Punch

1 review
A tasty but hearty fruit punch made with Hawaiian punch, ginger ale, orange juice, rum and orange sherbet. Watch out, this one will sneak up on you.
Mai-Tai Punch

2 reviews
A punch version of the popular Polynesian tiki drink, the Mai Tai. Made with pineapple, orange, lemon and limeade. Mixed with rum and some sugar to sweeten. The fun part is the array of garnish ideas included to customize your drinks.
Pat O'Brien's Hurricane Punch

1 review 1 comment
A copy cat recipe from the famous Pat O'Brien's located in the French Quarter of New Orleans. The punch calls for passion fruit cocktail mix, lemon juice, and dark rum. All mixed up festively in a hurricane glass.
Sparkling Peach Mimosa Punch

1 review
Mimosas are a popular brunch cocktail but if you need to serve a crowd this recipe is a great way to do so.
Holiday Punch
Made with lemon, orange, red food coloring, Southern Comfort, lemon juice, frozen lemonade concentrate, frozen orange juice concentrate, lemon-lime flavored carbonated beverage
Cran-Rum Punch

1 review
A cranberry punch that is good any time of year. It is light and bubbly made with cranberry juice, ginger ale, and dark rum.
Scorpion Bowl Punch Cocktail

2 reviews
This is a serious party punch made with three kinds of rum, gin AND vodka. Oh, and a couple of fruit juices thrown in for good measure.
Mexican Fruit Sangria
Made with brown or granulated sugar, red wine, brandy, orange, orange juice, lemon, lime, apple, pear, club soda