home > recipes > meals / dishes > drinks > shakes, sodas and floats > milkshakes > chocolate malts
Chocolate Malts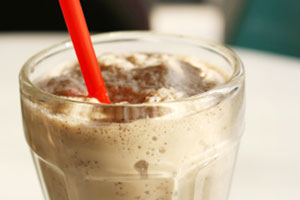 jump to the recipes

Chocolate malts are similar to a chocolate milk shake in that they are both made with ice cream and chocolate flavoring. The big difference is the malted milk powder.

Malt is made from barley which has been dried and turned into a powder. You can get it in plain or chocolate flavor. It has a distinctive taste and malts aren't usually as sweet as regular chocolate milk shakes. I actually prefer them to shakes because of this unique taste.

Malts are considered nutritious (yes, really) and were actually originally created as a food for babies because the malt is easily digestible. However, the Walgreen's drug store is credited for bringing the "malted" mainstream when they incorporated it into their chocolate milk shakes.

There are no hard and fast rules for making them. You'll need the milk powder, of course, but from there you can get creative. You'll need ice cream - either chocolate or vanilla. If you use vanilla you'll probably want some chocolate syrup added. Mix everything up in a drink mixer or blender and serve. You can garnish with crushed malted milk balls for a little extra malty flavor!
Chocolate Malt
2 reviews
Made with malted milk powder, vanilla extract, vanilla ice cream, milk, chocolate syrup
Rocky Road Malts
Made with miniature sandwich cookies, peanuts, marshmallow creme, peanut butter, chocolate instant malted milk powder, milk, chocolate ice cream