home > recipes > meals / dishes > drinks > cocktails > bloody mary
Bloody Mary Cocktails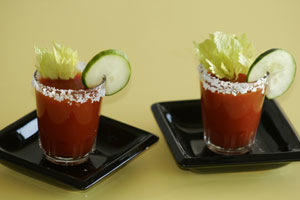 jump to the recipes

The Bloody Mary is said to have been named for Mary Tudor, Queen of England, by a bartender at Harry's New York Bar in Paris in 1921. The traditional cocktail is made from tomato juice, vodka, Worcestershire sauce, hot sauce and other seasonings.

Many variations have been made on this drink since it was first developed.
A Bloody Maria is made with tequila instead of vodka.
A Bloody Bull adds beef bouillon.
A Russian Mary adds yogurt.
A Bloody Caesar substitutes Clamato juice (at tomato-clam juice blend) for the tomato juice (this is also sometimes called a Bloody Mariner).
A Bloody Geisha uses sake in place of the vodka.
A Bloody Michelada uses beer in place of the vodka.
A Bloody Bishop uses sherry instead of vodka.
A Bloody Shame, or Virgin Mary, is made without alcohol.

Bloody Mary's have also become a popular "morning" cocktail commonly served on brunch menus. They are also known to be a good cure for a hangover, aka "Hair of the Dog". Typically the drink is served in a tall glass over ice with a garnish of some kind. The standard garnish is a celery stick but many bars have signature drinks that garnish with everything from pickled asparagus to beef jerky. Ike's Diner in Minneapolis has a Bloody Mary they call "The Weekender" which includes a garnish spear of shrimp, pickled bean, beef jerky, cheese, celery and pepperoncini (and I highly recommend it if you are in the area!).
Mr & Mrs T Bold & Spicy Bloody Mary Mix
1 review 1 comment
Skip the bottled Bloody Mary mix next time and make your own. This makes a big batch but it can be scaled down easily. It has just the right balance of spices and is delicious enough to drink without the vodka too.
Bloody Bull Cocktail
1 review
Made with black pepper, lemon juice, tomato juice, beef bouillon, vodka, Worcestershire sauce, hot sauce, Creole seasoning, celery salt, lime juice
Bloody Mary Oyster Shots
Made with lime wedge, oysters, vodka, lemon or lime juice, tomato juice, Tabasco sauce, Worcestershire sauce, black pepper
Hash House A Go Go's Bloody Mary
2 reviews
Made with black pepper, vodka, tomato juice, celery salt, Worcestershire sauce, hot sauce, lemon, pickled green bean, jalapeno-stuffed olives, dill pickle
Hot Bloody Mary
3 reviews
Made with vodka, celery, V8 vegetable juice, Italian salad dressing mix, horseradish
crock pot
Best Ever Bloody Mary
Made with dill pickle, celery salt, black pepper, salsa, vodka, hot pepper sauce, Worcestershire sauce, lemon juice
Loretta's Bloody Mary
Made with pepper-flavored or plain vodka, white pepper, Beefamato or Clamato juice, lemon, Worcestershire sauce, Tabasco sauce, prepared horseradish, garlic salt, celery salt
Wild River Bloody Mary Mix
1 review
Made with hot pepper sauce, Worcestershire sauce, tomato juice, celery salt, black pepper
Bloody Mary Punch
Made with liter seltzer, chilled, tabasco garlic pepper sauce, lemon juice, horseradish, vodka, container tomato juice, (42 oz), chilled, fresh mint, cherry tomatoes (small), Festive Ice Ring;
Tequila Bloody Marys
2 reviews 1 comment
Made with pickled jalapenos, hot sauce, tomato juice, horseradish, tequila, Worcestershire sauce, salt, lime, black pepper
Bloody Mary Deluxe
Made with tomato juice, tomatoes, red onion, Red or green finely chopped Jalapeno pepper, cucumber, limes, Worcestershire sauce, salt, black pepper