Beverages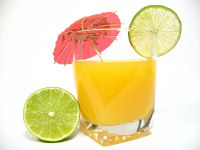 We have drink recipes for every occasion from simple sipping to elegant cocktail parties. Check out our mixed drinks for spicy bloody Mary's or a variety of martinis. Want great coffee without the coffee shop expense? Our hot drink section has hot coffee, espresso and more. Looking for something cooler? Our cold beverage section has smoothies, punch, iced tea, and refreshing homemade lemonade.
Colonial Hot Buttered Rum
Made with heavy cream, water, brown sugar, butter or margarine, salt, cinnamon sticks, whole cloves, ground nutmeg, rum
crock pot
Applebee's Perfect Margarita
This copy cat version of Applebee's popular drink is indeed, a perfect margarita! Use good brands of tequila and sweet and sour mix (or make your own) for best results.
Margarita Punch
A great way to serve margaritas to a crowd. The traditional margarita ingredients of tequila, triple sec, and sour mix are combined with ginger ale and lime sherbet to create a creamy lime-colored punch.
Virgin Pina Colada
Made with ice cubes, maraschino cherries, pineapple juice, cream of coconut, pineapple slices
Applebee's Bahama Mama
Made with cherry, pineapple, rum, Malibu rum, banana liqueur, grenadine, pineapple juice, orange juice, lemon lime soda
Vodka Fruit Punch
A great summertime punch made with pineapple, orange, and lemon juices mixed with ginger ale for fizz, vodka for a kick, and garnished with orange sherbet and maraschino cherries.
Vodka Punch
The combination of cranberry juice, lemonade and 7-UP gives this vodka punch a very refreshing taste.