home > recipes > meals / dishes > desserts > frosting > whipped cream frosting
Whipped Cream Frosting and Icing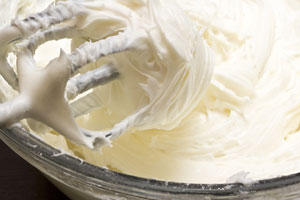 jump to the recipes

Whipped cream frosting and icing will need to be kept refrigerated. It makes a wonderful frosting for cakes, cupcakes and bars or brownies. Stabilized whipped cream will hold its shape without weeping. You can sweeten the frosting to taste and add in other flavors like orange or lemon to go with a variety of cakes.
Cool Whip Frosting
32 reviews 9 comments
Cool Whip isn't the only secret ingredient in this frosting recipe. It also calls for vanilla pudding mix. Doesn't get easier than this, folks!
Mock Whip Cream Frosting
8 reviews 2 comments
This frosting recipe whips up just like real whipped cream but it's made from a custard-style base of flour and milk, mixed with butter, shortening, sugar, and vanilla.
stovetop
Stabilized Whipped Cream Icing
9 reviews
Made with unflavored gelatin, water, heavy whipping cream, confectioners' sugar, vanilla extract
stovetop
Raspberry Whipped Cream
1 review
Made with sugar, raspberries, heavy cream
Homemade Cool Whip
5 reviews
Made with oil, sugar, gelatin, water, nonfat dry milk
Dream Whip Icing
2 reviews
Made with vanilla pudding mix, Dream Whip topping mix
Silken Tofu Whipped Topping
1 review 2 comments
Made with soy milk, almond extract, salt, tofu, sweetener, lemon juice, vanilla extract
Stabilized Whipped Cream Without Gelatin
1 review
Made with vanilla extract, heavy whipping cream, confectioners' sugar, piping gel
Orange Whipped Cream
1 review
Made with whipping cream, lemon juice, orange peel, sugar, flour, salt, egg yolks, orange juice
stovetop
Caramel Whipped Cream
1 review
Made with whipped cream, vanilla extract, corn syrup