Ice Cream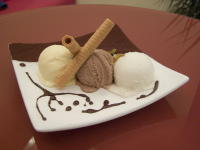 Nothing beats homemade ice cream! It's easier to make than you may think (especially if you have an ice cream maker - but you can make it without one). You can control the ingredients and flavors (and you can have it anytime you want!). Chocolate ice cream is the most popular flavor but we have great tasty treats like vanilla, strawberry, pistachio and more. Don't forget about ice cream's cousins: sorbet, granita, and sherbet! Already have the ice cream and looking for a dessert? Try ice cream sandwiches, sundaes and even fried ice cream.
Pina Colada Ice Cream
Pina colada flavors but in ice cream form. Made with sweetened condensed milk, cream of coconut (not coconut milk), rum, whipping cream, pineapple, and toasted coconut.
Butterfinger Ice Cream
Made with vanilla extract, half and half, heavy cream, Butterfinger candy bars, peanut butter, sweetened condensed milk