home > recipes > meals / dishes > desserts > ice cream
Ice Cream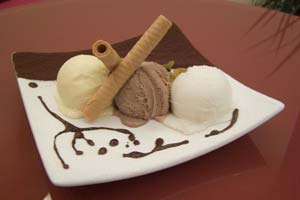 Nothing beats homemade ice cream! It's easier to make than you may think (especially if you have an ice cream maker - but you can make it without one). You can control the ingredients and flavors (and you can have it anytime you want!). Chocolate ice cream is the most popular flavor but we have great tasty treats like vanilla, strawberry, pistachio and more. Don't forget about ice cream's cousins: sorbet, granita, and sherbet! Already have the ice cream and looking for a dessert? Try ice cream sandwiches, sundaes and even fried ice cream.
featured ice cream recipe
ice cream recipe categories
Get our best recipes delivered right to you!
Sign up for our newsletters that feature hand-picked recipes
search the ice cream recipes