home > recipes > meals / dishes > desserts > pies and pie crusts > ice cream pies
Ice Cream Pies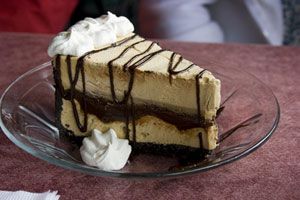 jump to the recipes

Pies are great for so many occasions because they are so varied in flavors and ingredients. Ice cream pies are most popular in warm weather months like spring and summer because they are so cool and refreshing.

Most ice cream pies use a graham cracker crust or other cookie crumb crust. You can make your own from scratch or buy them premade at the grocery store. You can also buy pre-crushed graham cracker crumbs to save yourself some time (and mess).

The type of ice cream used in the pies can vary tremendously and be tailored to suit your tastes. Some popular flavors are cappuccino or coffee, chocolate chip, pistachio, and butter pecan. The ice cream is usually softened a little first so it can be smoothed over the crust. It is then typically refrozen until firm and ready to serve.

Some of the frozen pies consist of layers such as using a brownie mix on the bottom, a layer of ice cream, then a topping such as fudge sauce or fruit.
Kimo's Hula Pie
2 reviews
Made with macadamia nuts, chocolate cookie crumb crust, macadamia nut ice cream, hot fudge ice cream topping, Cool Whip
Kahlua Ice Cream Pie
1 review
Made with whipping cream, chocolate ice cream, chocolate wafer cookies, Kahlua, espresso powder, semi-sweet chocolate, butter, ice cream
stovetop
Chart House Mud Pie
1 review
Made with fudge sauce, Nabisco chocolate wafers, butter, coffee ice cream
John's Flaming Hearth Pumpkin Ice Cream Pie
1 review
Made with brown sugar, vanilla ice cream, pie shell, pumpkin, sugar, salt, pumpkin pie spice, heavy cream, whipped cream
stovetop
Cappuccino Pie
1 review
Made with Oreo cookie crumbs, chocolate crumb pie crust, coffee ice cream, Cool Whip
Chocolate Chip Ice Cream Pie
2 reviews
Made with chocolate chip ice cream, chocolate syrup, semisweet chocolate chips, crisped rice cereal, sour cream
microwave
New Orleans Swamp Pie
Made with butter or margarine, whipped cream, shredded roasted coconut, sliced roasted almonds, vanilla ice cream, chocolate fudge, graham cracker crumbs
Hot Fudge Sundae Ice Cream Pie
Made with maraschino cherries -- optional, nuts, salt, evaporated milk, miniature marshmallows, chocolate chips, vanilla ice cream, vanilla wafers
Aunt Woody's Easy Ice Cream Pie
Made with pie pastry, milk chocolate bar or chocolate chips, chocolate filled sandwich cookies, butter or margarine, ice cream
microwave
Chocolate Peanut Butter Ice Cream Pie
1 review
Made with peanut butter, vanilla ice cream, chocolate ice cream, butter, peanuts, chocolate cookie crumbs