Fruit Desserts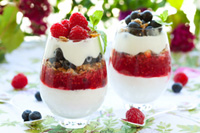 Serving up the dessert course with these delicious fruit recipes. Try some peach enchiladas, baked pineapple pudding or apple crepes
Peach Enchiladas
Made with Mountain Dew or Sprite, cinnamon, sugar, refrigerated crescent rolls, butter, peaches
oven
Layered Banana Pineapple Dessert
Made with crushed pineapple, cream cheese, graham cracker crumbs, sugar, butter or margarine, bananas, instant vanilla pudding/pie filling mix, milk
Banana Cobbler
Made with bananas, baking powder, flour, sugar, milk, butter or margarine
oven
Apple Cobbler
Made with apple pie filling, yellow cake mix, butter
crock pot
Arby's Apple Turnovers
A homemade version of the popular apple turnovers from the Arby's fast food chain. Made with puff pastry sheets, apples, sugar, and cinnamon and drizzled with a sugar glaze.
oven, stovetop
Fresh Pear Cobbler
Made with egg, milk, salt, fresh pears, sugar, butter, flour, baking powder, cinnamon
oven
Blueberry Yum-Yum
Made with Cool Whip, graham cracker crumbs, margarine, sugar, cream cheese, blueberry pie filling
Breakfast Apple Cobbler
Tart apples are mixed with sugar, lemon juice, and cinnamon and then topped with your favorite granola cereal. Slow cook overnight and you will wake up to a delicious breakfast.
crock pot
Wild Blackberry Turnovers
Made with vanilla extract, baking mix, baking powder, salt, fresh blackberries, cinnamon, butter, sugar, flour
oven