Frosting and Icing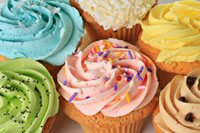 Frosting, icing, and cake decorating recipes and ideas. Make your next cake extra special by adding these finishing (and delicious) touches. Frosting is also great on cookies, cupcakes and brownies.
1 Minute Chocolate Frosting
This is a boiled frosting that yields a fudgy like texture. It's made with sugar, cocoa, butter, milk, and vanilla extract. Great on brownies!
stovetop
Easy Cocoa Frosting
An easy no-cook chocolate frosting made with butter, cocoa powder, powdered sugar, milk, and vanilla extract.
Cool Whip Frosting
Cool Whip isn't the only secret ingredient in this frosting recipe. It also calls for vanilla pudding mix. Doesn't get easier than this, folks!
Buttercream Frosting
A tasty American chocolate buttercream frosting made with butter, cocoa powder, powdered sugar, milk, and vanilla extract. Directions include amounts for making medium and dark chocolate frosting too.
Chocolate Chip Icing
A boiled icing using chocolate chips instead of cocoa powder for the chocolaty flavor.
stovetop
Peanut Butter Frosting
This quick-to-make creamy frosting uses only powdered sugar, milk, butter, peanut butter, and vanilla.
Cinnabon Frosting
If you love the frosting on the cinnamon rolls at Cinnabon, then you'll love this copycat recipe. It uses margarine, cream cheese, powdered sugar, lemon juice, and vanilla extract to get that delicious Cinnabon flavor.
Not-So-Sweet Frosting
This frosting is made with less sugar than other recipes to reduce the sweetness. A cooked base of flour and milk is made for thickness and butter, sugar, vanilla, and optional cocoa is added in.
stovetop
Chocolate Whipped Cream Frosting
Need a quick frosting? This recipe is basically just whipped cream with some added flavoring of sugar, cocoa powder, and vanilla extract. Needs to be kept chilled to hold its shape.
Mock Whip Cream Frosting
This frosting recipe whips up just like real whipped cream but it's made from a custard-style base of flour and milk, mixed with butter, shortening, sugar, and vanilla.
stovetop
Fluffernutter Frosting
A delicious and fluffy peanut butter frosting made with marshmallow creme, peanut butter, butter, vanilla, salt, powdered sugar, and milk.
Buttercream Icing
Made with butter, sugar, milk, flour, vanilla extract, cocoa
stovetop