home > recipes > meals / dishes > desserts > cookies
Cookies For Every Occasion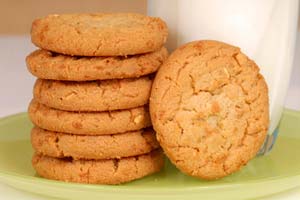 jump to the recipes

The word cookie originates from the Dutch "koekje" which means "little cake". However, these baked goods can be traced all the way back to Persia, circa the 7th century.

Cookies can be any variety of six basic cookie types: drop, bar, formed, pressed, refrigerator, or rolled. In addition to breaking our collection down by various types, we've also grouped them by flavor (like chocolate chip, lime, or pecan) so you can find the exact recipes you are looking for.

Baking is more of a science than an art form. It requires a specific ratio of ingredients and precise baking methods to yield desired results. But don't let that scare you, once you understand what ingredients you can tweak to get the results you want, baking cookies is a breeze.

Cookie Tips:
More Chewy: Remove the cookies from the oven a couple minutes before they are done or bake them at 25F cooler an oven temp for the same amount of time. Add more butter than called for in the recipe or add an extra egg yolk.
More Crispy: Add more liquid or reduce the flour. Use melted butter. Use white sugar instead of brown.
Cookies spread too much? Chill the dough (or at least the butter and eggs).
More Cakey: Add more liquid or more flour. Use brown sugar instead of white. Reduce the oven temp by 25F. Add baking soda.
More tips - make sure the baking sheets are completely cool before baking the next batch. Bake one sheet at a time in the center of the oven and rotate it half way through the cooking time. If you must bake 2 sheets at once, rotate them during cooking. Let cookies cool on the sheet on a rack for 5 minutes, then remove (unless the recipe specifies otherwise). Most cookies freeze wonderfully.