home > recipes > meals / dishes > desserts > cheesecakes
Cheesecakes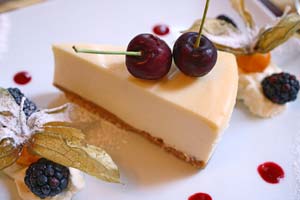 Cheesecake dates back to ancient Greece and different versions of it exist in many different cultures. It can be made with a variety of base ingredients including cream cheese, ricotta, sour cream, farmer's cheese, buttermilk, mascarpone and other soft cheeses and dairy products.

The most commonly found cheesecakes are the sweet kind eaten as a dessert. However, because the cheeses used are mild they can also be made into a savory dish which is often served as an appetizer or first course. Sweet cheesecakes can come in a variety of flavors from plain to chocolate to mango and often have toppings like a fruit sauce or other sweet sauce.

The most famous version is New York style which is made with sour cream and is often twice baked with an additional sour cream topping added during the second bake time.

You'll find both baked and unbaked (chilled) versions depending on the ingredients. They are typically made in a springform pan but some recipes call for cake pans or pie tins (especially for the unbaked types). Most cheesecakes use a cookie crust, most commonly made from graham crackers. You'll also see other cookies like gingersnaps, macaroons, and chocolate sandwich cookies used to vary the flavor and texture.

Fun Food Holiday: July 30th is National Cheesecake Day.
featured cheesecake recipe
Made with pie filling, vanilla extract, yellow cake mix, eggs, oil, cream cheese, sugar, milk, lemon juice
view recipe
cheesecake recipes
Bananas have light sweet flavor and creamy texture that works perfectly in a cheesecake

view recipes

Slightly sweet, slightly tart, lemon cheesecakes make a delicious dessert.

view recipes

No need to fire up the oven for these cheesecake recipes. Simply prepare, then chill!

view recipes
Get our best recipes delivered right to you!
Sign up for our newsletters that feature hand-picked recipes
search the cheesecake recipes