Cakes with Yellow Cake Mix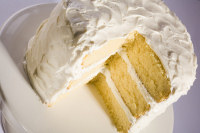 Start with a box of yellow cake mix and using the recipes below create a new gourmet favorite! No need to bake 100% from scratch (and no one will know you cheated and used a mix!). Delicious cakes can be made easy.
7-Up Cobbler Bake
A delicious dessert with only three ingredients. Cherry pie filling is topped with dry yellow cake mix and 7-up soda is poured over the top then baked until done.
oven
Cheesecake with Cake Mix
Yellow cake mix is the secret ingredient in this cheesecake recipe. It's used both in the crust and the cheesecake batter.
oven
Almost Heaven Cake
A yellow cake is baked and topped with crushed pineapple, vanilla pudding, cream cheese, and Cool Whip.
oven
Banana Cake
Made with cinnamon, pecans, brown sugar, bananas, oil, sugar, yellow cake mix, eggs, vanilla extract
oven
7-up Cake
Made with butter or margarine, vanilla instant pudding mix, white or yellow cake mix, vegetable oil, 7-up, sugar, flour, eggs
oven, stovetop
Cake Mix Coffeecake
Made with pecans, cinnamon, yellow cake mix, vegetable oil, instant vanilla pudding mix, sour cream, eggs, sugar
oven
Bacardi Rum Cake
Made with butter, pecans, yellow cake mix, instant vanilla pudding mix, eggs, water, vegetable oil, rum
oven, stovetop
Cream Cheese Bars
Made with yellow cake mix, butter, egg, cream cheese, confectioners' sugar, eggs, vanilla extract
oven
Graham-Streusel Coffee Cake
Made with graham cracker crumbs, pecans or walnuts, brown sugar, ground cinnamon, butter or margarine, yellow or white cake mix, water, oil, eggs
oven
Oreo Cookie Cake
Made with milk, confectioners' sugar, chocolate sandwich cookie crumbs, semisweet chocolate chips, all-purpose flour, margarine, butter cake mix
oven
Easy King Cake
Made with red, blue, yellow, and green food color, sugar, lemon peel, ground nutmeg, gumdrop, yellow cake mix, confectioners' sugar, lemon juice, water
oven