home > recipes > meals / dishes > desserts > brownies
Brownies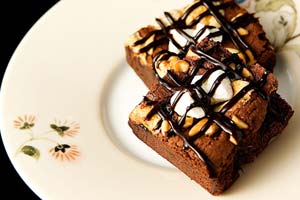 jump to the recipes

Brownies. Who doesn't love them? We have hundreds of different recipes for everything from cream cheese brownies to Kahlua brownies to vanilla blondies.

Brownies freeze great! So don't worry about making a big batch and having them go to waste, simply freeze them in individual squares on a baking sheet. When solid, place them in a zip-top bag and freeze for up to several months.

If you love brownies but hate the calories, try this tip for reducing some of the fat calories: For each half cup of butter called for in the recipe, substitute 1/4 cup butter plus 1/8 cup applesauce. You'll never notice the fat is missing!
Applebee's Walnut Blondie With Maple Butter Sauce
29 reviews 3 comments
Made with flour, baking powder, baking soda, salt, walnuts, butter, brown sugar, egg,, vanilla extract, white chocolate chips
stovetop, oven
Best Butterscotch Brownies Ever
9 reviews 3 comments
Made with nuts, vanilla extract, brown sugar, butter, eggs, flour, baking powder, salt
oven
Microwave Brownies
3 reviews
Made with nuts, salt, butter or margarine, sugar, brown sugar, eggs, vanilla extract, flour, cocoa powder, baking powder
microwave
Chipotle Brownies
2 reviews
Made with chopped walnuts, flour, butter, bittersweet chocolate, cayenne pepper, eggs, sugar, vanilla extract, cinnamon, chipotle chili powder
stovetop, oven
Ultimate Gluten-Free Chewy Brownies
Made with salt, gluten-free flour, eggs, butter or margarine, unsweetened baking chocolate, semisweet baking chocolate, sugar, vanilla
oven, stovetop
Chocolate-Covered Brownie Bites
1 review
Made with butter, vanilla extract, brownie mix, sweetened condensed milk, semi-sweet baking chocolate
oven, stovetop
Caramel Brownies
4 reviews
Made with vanilla extract, salt, baking powder, flour, sugar, eggs, butter, German sweet chocolate, evaporated milk, caramels
S'mores Stuffed Brownies
1 review
Made with nonstick cooking spray, brownie mix, graham crackers, chocolate bars, marshmallows
oven
Brownies With A Surprise
2 reviews 1 comment
Made with peanut butter cups, salt, all-purpose flour, butter, semisweet chocolate, sugar, eggs, vanilla extract
oven, stovetop
Strawbana Brownies
3 reviews
Made with oil, powdered sugar, water, strawberries, eggs, brownie, strawberry cream cheese, banana
oven
Neiman Marcus Brownies
2 reviews
Made with cream cheese, powdered sugar, chocolate cake mix, butter, eggs, nuts
oven