Desserts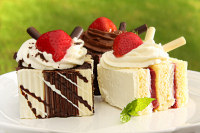 Ah, delightful desserts! Sweet, creamy, chewy or chocolatey, desserts are a delicious indulgence. We have various cake and frosting recipes, cupcakes, fudge and bars, cookies (of course!), cheesecake, ice cream, pies - well, we have it all! Desserts are great after a meal or as a stand alone treat. There are also sugar free, fat free, low carb and many healthy versions too. Warning: reading these recipes may cause drooling.
1 Minute Chocolate Frosting
This is a boiled frosting that yields a fudgy like texture. It's made with sugar, cocoa, butter, milk, and vanilla extract. Great on brownies!
stovetop
1 Minute Cake
The famous one minute mug cake! If you are craving a bite of cake but don't want to make a whole one, this recipe is for you. Just a few ingredients in a mug and one minute on high in the microwave.
microwave
Easy Cocoa Frosting
An easy no-cook chocolate frosting made with butter, cocoa powder, powdered sugar, milk, and vanilla extract.
Easy Creme Brulee
Made with heavy cream, egg yolks, sugar, vanilla extract, light brown sugar
oven
Cool Whip Frosting
Cool Whip isn't the only secret ingredient in this frosting recipe. It also calls for vanilla pudding mix. Doesn't get easier than this, folks!
Make Your Own Bubble Gum
Made with flavoring, gum base, powdered sugar, corn syrup, glycerine, citric acid
stovetop, microwave
Chewy Oatmeal Raisin Cookies
Made with oats, salt, cinnamon, margarine or butter, brown sugar, sugar, eggs, vanilla extract, flour, baking soda
oven
Easy Peach Cobbler
Made with butter or margarine, nutmeg, peaches, oats, all-purpose flour, brown sugar, cinnamon
crock pot
Quaker Vanishing Oatmeal Raisin Cookies
Made with quick or old fashioned oats, margarine or butter, brown sugar, sugar, eggs, vanilla extract, all-purpose flour, baking soda, ground cinnamon, salt
oven