Omelets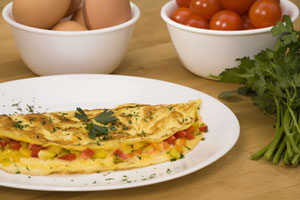 jump to the recipes

Omelets exist in many cultures in some form or another. They are quick to make and can be filled with a variety of meats, cheeses, and vegetables. Omelets are also often served rolled, folded, or open face. Great for breakfast, brunch or even dinner.
Classic Denver Omelet

7 reviews
Also known as a Western omelet, this breakfast dish is made from eggs, ham, bell pepper, and onion. This version has the filling cooked right into the egg instead of the more traditional style.
stovetop
Baked Mashed Potato Omelet

2 reviews
Made with Parmesan cheese, bell peppers, onion, mushrooms, oil, eggs, mashed potatoes
stovetop, oven
Hawaiian Omelette

3 reviews
This omelette has a filling made with pineapple, ham, and Monterey Jack and Cheddar cheeses.
stovetop
Denver Omelet

2 reviews
Made with onion, eggs, cream, cheddar cheese, cooked ham, green bell pepper
oven
Fresh Tomato Omelets With Mozzarella Cheese

2 reviews
Made with mozzarella cheese, eggs, salt, black pepper, non-stick cooking spray, dried oregano, tomato
stovetop
Pepperoni Omelet

1 review
Made with roma tomato, eggs, milk, basil, pepperoni, Mozzarella cheese
stovetop
Smoked Salmon Omelette

1 review
Made with eggs, milk, salt, black pepper, herbs, scallions, butter, smoked salmon, Gruyere cheese
stovetop
Broccoli Omelet
Made with cottage cheese, olive oil, onion, frozen broccoli, basil or dill, eggs
oven, stovetop
IHOP Colorado Omelete

1 review 1 comment
Made with water, eggs, roast beef, sweet onions, bell pepper, tomatoes, ham, Cheddar Cheese, bacon, breakfast sausage link
stovetop
Amaretto Omelet

1 review
Made with brown sugar, sour cream, fresh fruit, Amaretto, cream cheese, eggs, milk, butter
stovetop