home > recipes > meals / dishes > breakfast and brunch > eggs
Eggs For Breakfast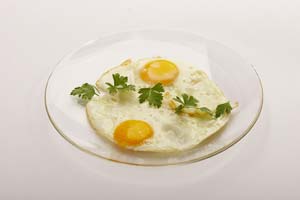 The most important meal of the day starts here! Eggs are a great source of protein and are incredibly versatile. Fried, scrambled, poached, hard-cooked: there are so many breakfast options to choose from. Make a fried egg sandwich for on the go, or a breakfast casserole makes for a great brunch. Over 900 great egg recipes!

Fun Food Holidays: May is National Egg Month, World Egg Day is October 11th and National Egg Day is June 3rd!
cdkitchen's recommended recipes
Muffin Tin Breakfast
Partially cooked bacon is wrapped around the inside of muffin cups. An egg is cracked into each tin and topped with butter and half-and-half. It's baked until done and you have a tasty breakfast "muffin".
get the recipe →
Get our best recipes delivered right to you!
Sign up for our newsletters that feature hand-picked recipes