Eggs For Breakfast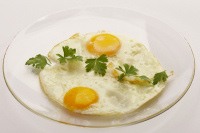 The most important meal of the day starts here! Eggs are a great source of protein and are incredibly versatile. Fried, scrambled, poached, hard-cooked: there are so many breakfast options to choose from. Make a fried egg sandwich for on the go, or a breakfast casserole makes for a great brunch. Over 900 great egg recipes!

Fun Food Holidays: May is National Egg Month, World Egg Day is October 11th and National Egg Day is June 3rd!
Classic Denver Omelet
Also known as a Western omelet, this breakfast dish is made from eggs, ham, bell pepper, and onion. This version has the filling cooked right into the egg instead of the more traditional style.
stovetop
Spinach Tomato Frittata
This recipe makes a good breakfast or side dish. It's made with eggs, Parmesan, fresh spinach, and cherry tomatoes.
stovetop
Scrambled Eggs And Hot Dogs
A fun way to eat breakfast. Eggs are scrambled with hot dogs and served with ketchup on hot dog buns or tortillas.
stovetop
Hawaiian Omelette
This omelette has a filling made with pineapple, ham, and Monterey Jack and Cheddar cheeses.
stovetop
Muffin Tin Breakfast
Made with half and half, bacon, eggs, salt and pepper, butter or margarine
oven, stovetop
Deep Dish Frittata
Made with garlic, mushrooms, zucchini, red bell pepper, Prosciutto, fresh basil, dried basil, eggs, light cream
oven, stovetop
Denver Omelet
Made with onion, eggs, cream, cheddar cheese, cooked ham, green bell pepper
oven