Breakfast and Brunch Casseroles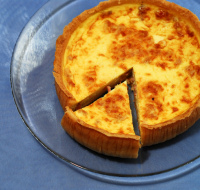 Breakfast casseroles are a great way to feed your family a delicious breakfast, or cook up a crowd-sized brunch. Try an overnight casserole, simply make the night before and in the morning bake to perfection.
Make-Ahead Egg Casserole
Made with black pepper, salt, cheddar cheese, olive oil, bell peppers, onions, eggs, heavy whipping cream or half and half, frozen hash brown potatoes
crock pot, stovetop
Sausage And Egg Casserole
Made with eggs, bread, milk, sausage, salt, cheddar or monterey jack cheese, black pepper, mustard
crock pot
Breakfast Casserole
Made with salt & pepper, dry mustard, milk, eggs, hashbrown potatoes, bacon, sausage, onions, green bell pepper, cheddar cheese
stovetop, crock pot
Any-Kind-Of-Strata
Made with butter, salt and pepper, cayenne pepper, onion, bread, cheddar cheese, milk, eggs, dry mustard
oven
Hashbrown Casserole
Made with butter, sour cream, hash brown potatoes, Cheddar cheese soup, cream of mushroom soup
crock pot
Baked French Toast Casserole
Slices of French bread are soaked overnight in an eggy milk mixture. Before baking a candied praline topping is spread over the casserole, making this a sweet way to start the day.
oven
Crock o' Breakfast
Made with black pepper, salt, skim milk, eggs, frozen hash browns, cooked ham, onion, green bell pepper, cheese
crock pot
Breakfast Everyone
Made with black pepper, salt, skim milk, eggs, frozen hash browns, ham, onion, green bell pepper, cheese
crock pot
Morning Casserole
Made with black pepper, salt, milk, eggs, frozen hash brown potatoes, bacon or ham, onion, green bell pepper, cheddar or Monterey Jack cheese
crock pot