Breakfast and Brunch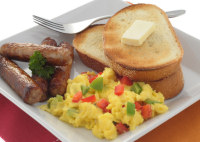 Start your day off right with a delicious breakfast. CDK has recipes for breakfast on the go, family style pancake breakfasts, or brunch with friends. Everything from kid-friendly breakfast pizza to elegant crepes.
Make-Ahead Egg Casserole
Made with black pepper, salt, cheddar cheese, olive oil, bell peppers, onions, eggs, heavy whipping cream or half and half, frozen hash brown potatoes
crock pot, stovetop
Sausage And Egg Casserole
Made with eggs, bread, milk, sausage, salt, cheddar or monterey jack cheese, black pepper, mustard
crock pot
Classic Denver Omelet
Also known as a Western omelet, this breakfast dish is made from eggs, ham, bell pepper, and onion. This version has the filling cooked right into the egg instead of the more traditional style.
stovetop
Hashbrown Casserole
Made with butter, sour cream, hash brown potatoes, Cheddar cheese soup, cream of mushroom soup
crock pot
Applesauce Bran Muffins
Made with raisins, bran cereal, applesauce, egg, margarine, brown sugar, all-purpose flour, baking powder, ground cinnamon
oven
Baked French Toast Casserole
Slices of French bread are soaked overnight in an eggy milk mixture. Before baking a candied praline topping is spread over the casserole, making this a sweet way to start the day.
oven
Breakfast Casserole
Made with salt & pepper, dry mustard, milk, eggs, hashbrown potatoes, bacon, sausage, onions, green bell pepper, cheddar cheese
stovetop, crock pot
Any-Kind-Of-Strata
Made with butter, salt and pepper, cayenne pepper, onion, bread, cheddar cheese, milk, eggs, dry mustard
oven
Craisin Muffins
Made with baking powder, eggs, sugar, milk, dried cranberries, vegetable oil, flour
oven