Breakfast and Brunch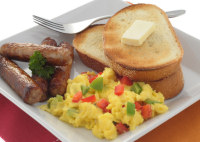 Start your day off right with a delicious breakfast. CDK has recipes for breakfast on the go, family style pancake breakfasts, or brunch with friends. Everything from kid-friendly breakfast pizza to elegant crepes.
Hundreds of different ways to cook eggs for breakfast.
Smoked Salmon Omelette
This omelet is so good I've made it twice now. That's right, *I* made something twice!
get the recipe →
These breakfast and brunch recipes are always a hit.
Scrambled Egg Cupcakes With Cheddar Cheese
These cute little breakfast bites are fun for kids but even grownups will enjoy them. Simple bread baskets are baked into shape and filled with fluffy scrambled eggs.
get the recipe →
Dress up your breakfast with some side dishes. And bacon. Always have bacon.
Freeze-Ahead Breakfast Hash Browns
Don't feel like peeling potatoes to make hash browns for breakfast? No problem, make them ahead of time and freeze until you're ready to use them. A great way to always have homemade hash browns on hand.
get the recipe →
Delicious carby goodness.
Apple Cider Waffles
The waffles lacked any apple cider flavor but overall were really good. I sampled them plain, with maple syrup, and with some fig jam I got from a friend. Delicious way to start the day!
get the recipe →
Start your day on the sweeter side.
Applesauce Bran Muffins
This is an extremely moist and delicious muffin recipe. In fact, one could do away with the glaze and it still tastes yummy! This is a keeper. -MAMMER
get the recipe →