home > recipes > meals / dishes > appetizers & snacks > seafood and fish appetizers
Seafood Appetizers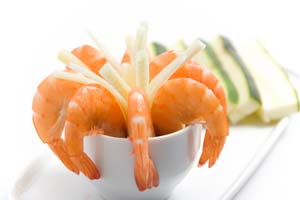 Appetizer recipes with clams, shrimp, calamari, oysters, etc. These make great party hors d'oeuvres or as a tasty starter to your dinner meal.
featured seafood and fish appetizer recipe
Made with paprika, sherry, crescent rolls, butter, lobster
view recipe
seafood and fish appetizer recipes
French appetizers made from large snails. It's often difficult to find fresh escargot so most recipes will use canned ones.

view recipes

Popular fish appetizers like sashimi, tuna tartare, fried fish cakes, and smoked salmon canapes

view recipes

Bay or sea scallops served bacon wrapped, dim sum style, or pan seared.

view recipes
Get our best recipes delivered right to you!
Sign up for our newsletters that feature hand-picked recipes
search the seafood and fish appetizer recipes