home > recipes > meals / dishes > appetizers & snacks > dips and spreads > salsa > picante sauce
Homemade Picante Sauce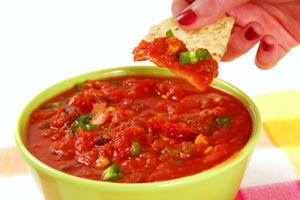 jump to the recipes

Picante is Spanish for piquant, or spicy. In Italian the word is piccante.

Picante sauce is typically a tomato based sauce that has hot peppers in it. It's smoother than most salsas which contain the same ingredients of diced tomatoes, peppers, and onions.

It can be used as a sauce in cooking, adding it to dishes like enchiladas, tacos, burritos and other Tex-Mex style recipes. It can also be used as a dip with tortilla chips. You can use it anywhere you would use salsa or ketchup (try it with scrambled eggs!).
Basic Picante Sauce
6 reviews
Made with cilantro, white onion, jalapeno pepper, canned jalapenos, tomatoes, vegetable oil, salt, sugar
stovetop
Fresh Salsa Picante
1 review
Made with garlic salt, cumin, chili powder, lime juice, fresh tomatoes, green bell pepper, onion or green onions, Anaheim chile, fresh cilantro, garlic
Texas-Style Picante Sauce
3 reviews
Made with tomatoes, jalapeno peppers, garlic, tomato paste, sugar, vinegar, alum, cumin, black pepper, salt
stovetop
Picante Sauce
1 review
Made with dried minced garlic, tomato puree, water, Spanish onion, jalapeno peppers, white vinegar, dried minced onion, salt
stovetop
Salsa Picante
1 review
Made with fresh cilantro, sugar, onion, tomatillos or tomatoes, bell pepper or Annaheim chiles, jalapeno, cider vinegar, sea salt, vegetable oil
Abuelita's Picante
1 review
Made with jalapenos, tomatoes, cilantro, onion, garlic salt