home > recipes > meals / dishes > appetizers & snacks > nuts and snacks > oyster crackers
Oyster Cracker Snack Mixes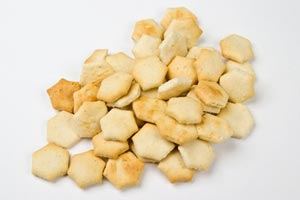 jump to the recipes

Oyster crackers aren't just for floating in your soup or entertaining a toddler, they also have some culinary merits of their own. They are so easy to make into a fantastic snack mix by simply adding some seasonings like Ranch dressing mix, taco seasoning, or even just a mixture of some of your favorite herbs or spices.

Most of the recipes have you mix the crackers with oil and the seasonings and then bake in the oven on a low temperature. This sort of "sets" the flavors. Once done you can store them in an airtight container.

valerie says: Both kids and grown-ups will love these. I often make them to have on hand before our taste-testing parties. They are light enough that people won't get filled up on them but yet give them something tasty to nibble on while waiting for the other guests arrive.
Seasoned Oyster Crackers
1 review
Made with parsley flakes, oyster crackers, butter, garlic powder, onion powder
oven
Taco Crackers
3 reviews
Oyster crackers are roasted with taco seasoning, garlic powder, oregano, and chili powder.
oven
Hidden Valley Oyster Crackers
8 reviews 1 comment
Made with salad oil, garlic powder, oyster crackers, ranch salad dressing mix, lemon pepper, dill weed
oven
Snackers Crackers
Made with parmesan cheese, oyster crackers, canola oil, dry minced onion, garlic powder, onion powder, dry dill weed, dry parsley, yogurt, water
oven, stovetop
Oysterette Snacks
Made with garlic powder, Parmesan cheese, cooking oil, oyster crackers