Appetizer Snacks and Nuts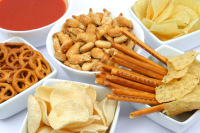 Candied nuts, roasted nuts and other munchie foods that are easy to grab a handful of. Great for appetizers, after-school snacks, tv-watching food, or anytime you need a snack!
Homemade Granola
Made with raisins or dried cranberries, vanilla, oats, almonds, brown sugar, salt, ground cinnamon, vegetable oil, honey
oven
Caramel Crispix
Made with baking soda, salt, Crispix cereal, butter, brown sugar, corn syrup
microwave
Puppy Chow
Made with Crispix cereal, butter, peanut butter, powdered sugar, chocolate chips
stovetop
Sugar Free Granola
Made with cinnamon, stevia powder, rolled oats, walnuts, almonds, flaxseed, oat bran, sunflower seeds, pumpkin seeds, kosher salt
oven
Spicy Pretzels
Miniature pretzels are coated with ranch salad dressing mix, garlic salt, cayenne pepper, and vegetable oil and then baked to soak in the flavors.
oven
Honey Roasted Almonds
Made with almond or vegetable oil, almonds, sugar, salt, honey, water
oven, stovetop
Taco Crackers
Oyster crackers are roasted with taco seasoning, garlic powder, oregano, and chili powder.
oven
Chex Muddy Buddies
Made with powdered sugar, Chex cereal, semi-sweet chocolate chips, peanut butter, margarine, vanilla extract
microwave
Boudreaux's Hot And Spicy Party Trash
Made with cashews, Rice Chex, wheat Chex, margarine, onion powder, Worcestershire sauce, garlic powder, creole seasoning, cayenne pepper, corn Chex cereal
oven