home > recipes > meals / dishes > appetizers & snacks > ethnic appetizers
Ethnic Appetizers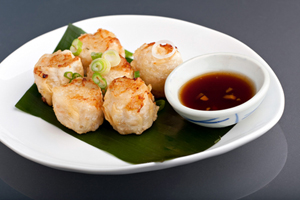 Around the world with appetizers!

Whether you are planning an ethnic themed party or just looking for some different types of appetizers to try, you're sure to find something in this collection.

The Mexican recipes are probably the most abundant with guacamole, empanadas, and various salsas. However we also have some incredible Asian appetizers like the popular crab rangoon, egg rolls, and potstickers.

Maybe you're not having a party but just want something to snack on? My personal favorite is hummus as it can be varied greatly with different spices. Use pita wedges or veggies for dippers.
featured ethnic appetizers recipe
Made with salt and freshly ground black pepper, avocados, garlic, lime juice, jalapeno pepper, tomatoes, red onion, cilantro
view recipe
ethnic appetizers recipes
Literally "chiles with cheese" in Spanish, these Mexican/Tex-Mex recipes contain mild or hot peppers mixed with a cheesy sauce and sometimes other ingredients like sausage or beans.

view recipes

Think of quesadillas as the Mexican version of a grilled cheese sandwich. Tortillas are filled with cheese and other fillings and folded over or layered, then cooked in a skillet or even in the oven until the cheese melts. Cut them into wedges to serve.

view recipes

Spring rolls, wontons, crab rangoon, pot stickers, and all your favorite Asian appetizers.

view recipes
Get our best recipes delivered right to you!
Sign up for our newsletters that feature hand-picked recipes
search the ethnic appetizers recipes